Ryan Reynolds just got a surprising honor for his role in "Deadpool"
20th Century Fox just won two Clio Key Art Awards (basically the Oscars for advertising and design; Don Draper wins one in the fourth season of Mad Men) for, of all things, Deadpool – and they have Ryan Reynolds to thank. The lovable, sarcastic actor was intimately involved with the marketing for the film, and it looks like that unusual call really paid off.
The film's campaign, which employed a lot of cheeky, fun ideas – like hilarious videos shot on Reynolds' iPhone – was clearly influential in Deadpool making tons of money at the box office.
The Hollywood Reporter shared that Reynolds worked closely with Fox's domestic marketing chief, Marc Weinstock. The actor explained, "I've never taken ownership like this before. I could email Marc or anyone on his team at three in the morning with pitches and ideas, and somehow a response would come back within 10 or 15 minutes."
Fox received two Clios for Deadpool's advertising; one for best integrated campaign, and the other for its emoji billboard. Yep, a billboard featuring the poop emoji just won a prestigious award. And, incredibly, there weren't a lot of those billboards – the budget for the film was pretty tight – but they went viral, so their reach was extremely impactful.
https://www.instagram.com/p/BC372UOrsdi
Says Reynolds, "The ad buys for Deadpool were minimal compared to the reward we reaped because we hijacked the internet."
It's totally true, too! Remember that video of Deadpool trick-or-treating with actual kids? That's one of the videos that was shot on Reynold's iPhone, and was totally his idea – and videos like that that went viral are why the studio won that Clio for its integrated marketing campaign.
Deadpool as a character meshes well with such an unconventional advertising model: "Deadpool is probably the most unpolished superhero out there, and it gave us this almost unfair advantage. We used this opportunity over and over because we had a character that is a total misfit and f—ing rascal, Reynolds commented.
Because of that, certain choices – the image of Deadpool lying on a bearskin rug, for example – gave fans a perfect sense of the film's tone and made it clear that the movie would be honoring the character they knew and loved from comics.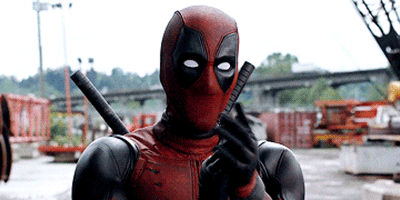 Concluded Reynolds, "I can channel this guy in a way I just can't seem to channel anything else. When it comes to Deadpool's sensibility, and certainly his sense of humor, I feel like we were born on the same end of the spectrum."
Whatever it is, the marketing for Deadpool certainly worked, and we can't wait to see what they come up with for the Deadpool 2 ads.