Ryan Reynolds FaceTimed with a terminally ill 5-year-old, and you're going to need tissues for this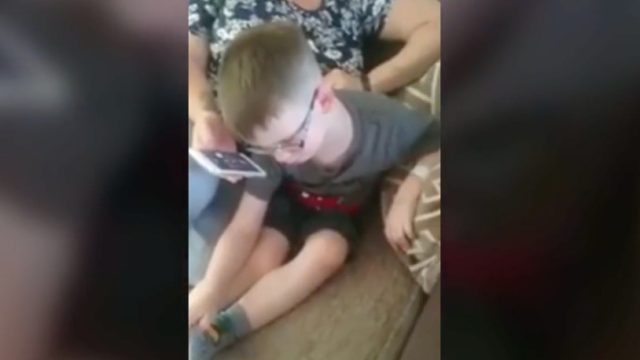 When Stephanie Downing took her son to the hospital because he was having trouble with his eyes, she thought he needed a pair of glasses. But what doctors discovered was truly heartbreaking — the five-year-old had a brain tumor and only months to live. After receiving the news, Little Daniel had one wish, to FaceTime with Ryan Reynolds — his hero.
From his great sense of humor to the way he gushes about wife Blake Lively, it's hard not to love Ryan Reynolds, but if you needed another reason, this might be it. After hearing about Daniel's love of Marvel and how much he loved Deadpool, Reynolds arranged a phone call with Daniel. The actor was on set of Deadpool 2 and even gave the little guy a tour during their 15-minute conversation.
This heart-warming conversation that ensued is reminding us that it's often the little things in life that mean the most.
https://www.youtube.com/watch?v=AlOxV8-5DLk?feature=oembed
The exchange started out as a regular phone call. "How's it going, little buddy?" Reynolds, 40, said over the phone. But that wasn't enough for Daniel! The bright young boy quickly requested a FaceTime video chat, and Reynolds was more than happy to oblige. You could literally hear the excitement in Daniel's voice.
"Ah, that's awesome, what an awesome t-shirt!" Reynolds enthusiastically said about Daniel's Deadpool shirt, adding: "You know, I'm the only guy who doesn't have one of those t-shirts. I need to get one of those."
Daniel only got more excited when his hero explained that he was in the middle of filming the sequel to his favorite movie.
"Yeah I am outside, you know what I am doing right now? I'm filming Deadpool 2. I'm about to walk into the set and shoot Deadpool 2, Reynolds explained.
While speaking to a local news outlet, Daniel's mother said,
"As soon as Daniel realized, he asked if he could FaceTime him and then he was very, very hyper. All the camera crew waved hello and Daniel had his Mr. Pool T-shirt on. Daniel was telling Ryan how poorly he'd been and how his friends had helped him feel better."
Unfortunately, Ryan had to dash off to continue filming, but we're so happy this exchange happened. And so is Daniel's mama. She continued,
"I'm so happy for Daniel. It's something he wouldn't normally have been able to do and he was so excited. He told all his friends and his teachers. It's nice to see him so excited because he has been a bit down lately."
There is a crowdfunding page set up for the Downings if you'd like to donate. According to the page, "Daniel is the most amazing 5-year-old 'young man' you could ever wish to meet. Full of life, mischievous, polite, intelligent, innocent, and above all, loving. He is adored and cherished by his mum Steph, his dad Robbie, his brother Jack (8 yrs old), and Steph's partner, Ady. Daniel has such an adorable character that he really fits the phrase 'once met, never forgotten.'"
And we definitely believe it! We're sending so much love to Daniel and his family, and a big shoutout to Ryan Reynolds for lifting the spirits of this little superfan in his time of need.