Ryan Reynolds tried to make fun of his "Green Lantern" movie, and instead made a super obscure "The Holiday" reference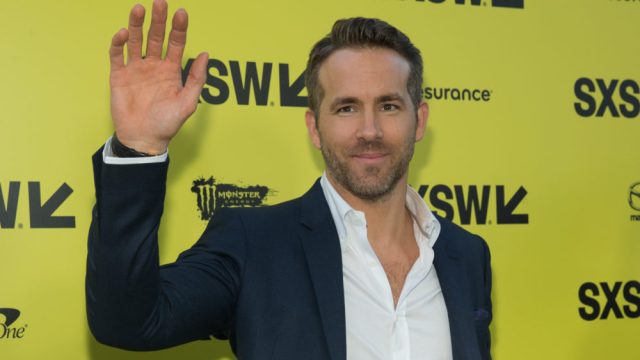 The internet has a very long memory, and we love our nostalgia. So when Ryan Reynolds took to his Instagram to make a joke about the, well, less than stellar Green Lantern film that he starred in back in 2011, while some fans shared in the joke, others couldn't help remember a 2006 rom-com that holds a special place in all of our hearts, The Holiday.
Reynolds posted an image of himself with a napkin over his face behind his glasses. The caption referred to the napkin as being an early prototype for the Green Lantern mask. However, people couldn't help but draw comparisons to that iconic scene in The Holiday where Jude Law's character Graham performs Mr. Napkin Head for his daughters and his date, Amanda (Cameron Diaz). It's just a silly moment in the movie meant to make his daughters laugh, but anyone who has seen The Holiday can attest to the fact that it's a ridiculously adorable moment.
It's clear that Reynolds didn't mean to invoke the early 2000s nostalgia of rom-com fans, but it took approximately two seconds for fans to latch on to the image and draw comparisons to the Law-era Mr. Napkin Head. Some even have gone as far to call Reynolds the New Mr. Napkin Head.
We love Ryan Reynolds, to be certain, but we've got to admit that Jude Law's Mr. Napkin Head will always hold a very special place in our hearts. After all, Graham is just so swoon-worthy in that movie (seriously, who didn't fall madly in love with Jude Law after seeing that movie?). Of course, though Reynolds is in the news lately for his turn as the foul-mouthed superhero, Deadpool, Reynolds has also played some truly lovable characters in some of our favorite rom-coms–Definitely Maybe, anyone? Still, Law's performance is just so iconic and adorable.
https://www.youtube.com/watch?v=1O9BbPEZRBs?feature=oembed
So while Reynolds didn't mean to invoke the internet's sense of nostalgia, he's found himself in an unintentional game of "who wore it better". While we think Jude Law will forever be our Mr. Napkin Head, Ryan Reynolds definitely gives Law a run for his money. At the very least, it is fun to imagine how Reynolds would have played the role of Graham.