Ryan Reynolds has some choice words for Hurricane Harvey and Hurricane Irma — and a way for you to help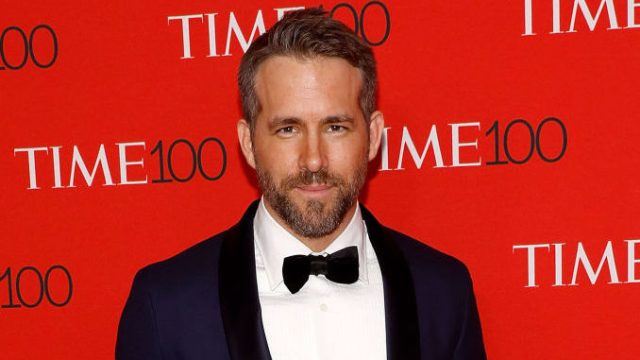 The world is a scary place right now, but a superhero is coming to our rescue. Well, sort of. Ryan Reynolds is raising awareness for Hurricane Irma and Hurricane Harvey relief. Because with Donald Trump likely ending the DACA program and natural disasters ravaging parts of the U.S., Mexico, and the Caribbean, the world could really use some help from a real-life Deadpool right now. But we'll settle for Reynolds, actor and professional Mr. Blake Lively.
The Deadpool star is doing his part to help Hurricane Irma and Hurricane Harvey relief.
On Saturday, Reynolds posted a photo of himself on the set of Deadpool 2 rocking a "Hope. Heal. Rebuild" T-shirt over his superhero gear. Proceeds from the shirt benefit Americares. The organization is bringing vital first aid supplies, chronic disease medicine, and bottled water to affected areas.
Reynolds told those hurricanes who's boss.
He also posted about the relief efforts on Instagram.
"Let's help those affected by Hurricane Harvey and Hurricane Irma. Support the incredible ground efforts of Americares emergency response teams with this snazzy t-shirt. Get one by clicking link in my bio. OR... Skip the fucking t-shirts altogether! Donate directly at Americares.org or use CharityNavigator.org to find the charity of your choice."
Reynolds isn't the only celebrity using his platform for good.
Miley Cyrus recently donated $500,000 to Harvey relief. In addition, other celebs raising money include Drake, Nick Jonas, Kevin Hart, and Sandra Bullock. Further, Beyoncé recently visited her hometown of Houston to pledge her support for the city.
You can support the cause and get your own T-shirt here.