Ryan Reynolds is already trolling the Disney and Fox merger, and we'd expect nothing less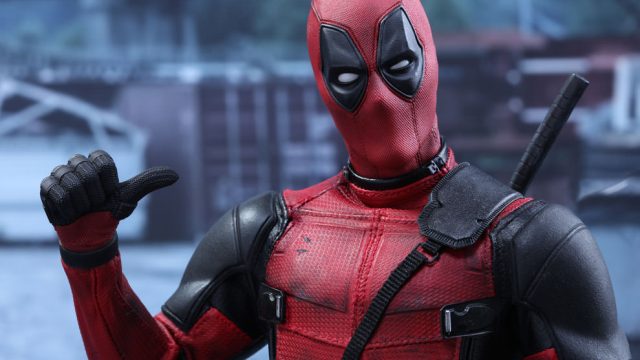 Step aside, Captain America and Iron Man, because the MCU may have gotten a little bit more crowded. Disney officially confirmed this morning that the company would be acquiring the majority of 21st Century Fox's entertainment assets in a $52.4 billion dollar deal. Naturally, fans are very curious about what this means for the ever-enduring X-Men franchise, and the wonderfully vulgar Deadpool — both of which Fox currently owns.
Deadpool star Ryan Reynolds has taken a very Ryan Reynolds approach to the news, hilariously trolling the deal. The actor tweeted a photo of Deadpool being escorted out of Disney World by security, accompanied by a very Deadpool caption: "Apparently you can't actually blow the Matterhorn."
This isn't the first time Reynolds has poked fun at the deal. On November 6th, when news of the potential deal was first announced, the actor, who also produces the Deadpool films, tweeted, "If this is true, I wonder how the fudge it would affect Deadpool?" in reference to Disney's long-standing aversion to R-rated films. He also added that he was excited to depict the sexual tension between Deadpool and Mickey on-screen.
But luckily for Reynolds, Deadpool's vulgarity isn't fudging going anywhere, as Bob Iger confirmed to investors that Deadpool would likely keep its R-rated status. While Disney itself won't make R-rated movies, companies it owns or has owned — most notably Miramax, which Disney sold in 2010 — have frequently made R-rated films. Plus, with Disney acquiring top 21st Century Fox studios — including 20th Century Fox and Fox Searchlight Pictures — in the deal, the company is clearly going to have to allow some wiggle room when it comes to MPAA ratings.
"It [Deadpool] clearly has been and will be Marvel branded. But we think there might be an opportunity for a Marvel-R brand for something like Deadpool," said Iger. "As long as we let the audiences know what's coming, we think we can manage that fine." 
So not only could Deadpool retain its R-rated status, but it seems the R-rating could be coming after the MCU.