Ryan Reynolds shared a heartwarming tribute to a late "Deadpool" fan, and we're crying all the tears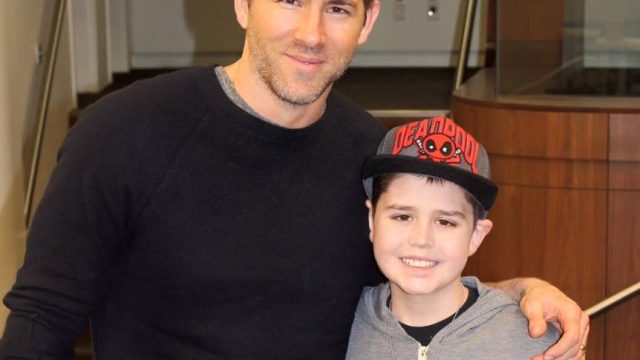 Ryan Reynolds is someone we typically think of as having a well-developed sense of humor: From playing silly songs when his wife, Blake Lively, is in labor to wishing her a happy birthday through a hilarious message, it seems he never misses an opportunity for laughs.
However, that doesn't mean he can't be serious, or take time to mourn lost loved ones – especially those gone far too soon.
Reynolds met 13-year-old Connor McGrath through the Make-A-Wish Foundation. Connor, who battled cancer, was one of the first fans to see Deadpool. In fact, Reynolds surprised him with a rough cut of the film, which the pair watched together. The two became friends; Reynolds visited him again, and the pair texted frequently.
Tragically, McGrath died in April and Reynolds posted a beautiful tribute to the teen on Facebook: "I'm grateful I got to orbit Connor's world for a brief time. Grateful for the pages and pages of hilarious texts between us. Grateful to his parents for allowing Connor to spend time with a foul-mouthed child in the body of a 39 year old, he wrote.
Connor McGrath would have turned 14 yesterday, and Reynolds made sure to continue to honor his memory. In a new post, Reynolds shared pictures of the pair, saying, "He isn't here now, but he stuck around long enough to make everyone he knew fall over laughing. Right up to the very end he was as quick with a joke as he was with a hug.
Reynolds also wished the best to McGrath's parents: "Sending his amazing parents, Kim and Gerald McGrath crisp high fives and bear-hugs of love, and encouraged his followers to support the Make-A-Wish-Foundation, which brought the two together.
While Connor McGrath's loss is incredibly tragic, we're glad he and Reynolds could become friends and send our best wishes and care to his loved ones.