Ryan Murphy has a new FX show, and it's almost time to rename FX "The Ryan Murphy Channel"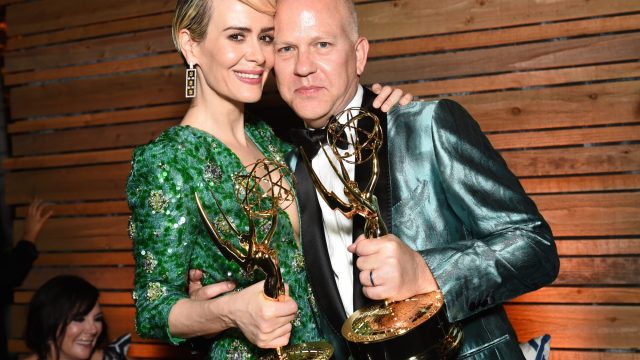 Why stop at one television show when you can FOUR? At least, that's what Ryan Murphy is clearly thinking. Instead of just settling for a trio of shows on FX, Murphy has decided he wants a cute little foresome. Joining the ranks of America Horror Story, American Crime Story, and Feud, Murphy now has another new FX show. Because, why not?
As Deadline revealed earlier today, this new show is called Pose. Just Pose. Sounds like this show could literally be about anything right now, but Murphy obviously has a very clear vision for it. Deadline describes the show as:
Set in 1986, Pose examines the juxtaposition of several segments of life and society in New York City: the emergence of the luxury Trump-era universe, the downtown social and literary scene and the ball culture world.
Yes, this is cool and all, but WILL THERE BE GHOSTS AND/OR EVAN PETERS? Asking for a friend.
This show is already on the fast-track, and FX is looking at an October start date for shooting — in NYC, of course. Supposedly, Murphy "has begun casting for the show, which is expected to feature largely new and unknown performers."
Okay, so no Evan Peters, but keep your fingers crossed.
FX is hoping to get Pose on the air for 2018, which would mean that Murphy now has 6 upcoming seasons. They include, but are clearly not limited to [deep breath]: American Horror Story Season 7, American Crime Story: Katrina, American Crime Story: Versace, American Crime Story: Monica Lewinsky, and Feud: Charles and Diana…and now Pose.
Also, while we're here, American Horror Story Season 8, and also that ~secret/surprise~ season of American Horror Story, that could literally appear at any moment, and tbh, not ready for that just yet.
ALSO, listing off these shows sent me into a small tailspin as I tried to wrap my mind around the fact that Ryan Murphy has at least eight upcoming seasons of television. 
EIGHT.
And all of these are on FX, obviously. Soon, we really will need our own Murphy channel to keep up with everything.