Netflix is making a new Ryan Murphy TV show, and it stars Ben Platt and maybe Barbra Streisand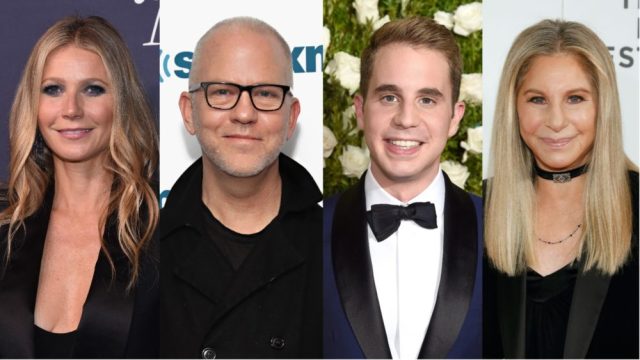 In our musical-loving dreams, Dear Evan Hansen star Ben Platt and musical icon Barbra Streisand have shared the stage many times. In real life, they haven't. But that's *all* about to change — and we'll have megaproducer Ryan Murphy to thank for it. That's because Platt has signed on to star in Ryan Murphy's new Netflix comedy, The Politician, and Streisand and Gwyneth Paltrow are in talks to star with him.
In other words, this show's going to be AMAZING.
The possible casting, which arrives via Deadline, is so mind-blowing that several streaming networks were apparently fighting over who would get The Politician before Netflix eventually landed it. Platt will serve as producer with Murphy, and if Babs and Paltrow make things official, they'll rock producer hats as well. Streisand will also reportedly be directing at least a few episodes.
Platt confirmed the story on his Twitter feed on February 5th by sharing Deadline's article about the project and telling his followers he's been "anxiously awaiting" sharing the news.
The show, which may or may not be about the political aspirations of Platt's character and his various political campaigns, is probably already destined for greatness as its three maybe-leads are all at at least halfway to an EGOT. Platt nabbed a Tony AND a Grammy for his Dear Evan Hansen role. Paltrow's got a Best Actress Oscar for Shakespeare in Love and an Emmy for her role on Ryan Murphy's Glee. And Streisand has an actual EGOT because, hi, she's epic AF.
This is Murphy's second planned show for Netflix.
Ratched, his One Flew Over the Cuckoo's Nest prequel starring Sarah Paulson, is also in the works. Also great? The Politician will reportedly feature musical numbers because, c'mon, this is BEN PLATT, BARBRA STREISAND, and GWYNETH PALTROW we're talking about, PLUS the mastermind behind Glee. It would be a crime NOT to make this a musical.
https://twitter.com/udfredirect/status/960546836602908677
No word on when we can expect the show (or a final yes or no from Babs and Gwyn), but production is slated to start in the summer. And we'll be warming up our voices to sing along whenever that premiere drops.