Ryan Murphy wants Sarah Paulson to terrify us as Kellyanne Conway on "American Horror Story"
Once again we all got just a little bit ahead of ourselves, America. American Horror Story will not be doing a 2016 election-based season after all, at least not in the way that we were hoping…or dreading.
However, there is one factor that might convince Ryan Murphy to feature Donald Trump, Hillary Clinton, Bernie Sanders, and the rest of the gang come Season 7: he really, really wants Sarah Paulson to play Kellyanne Conway.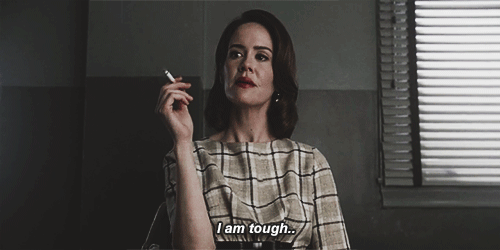 At Friday's Publicists Guild Awards luncheon, Murphy clarified speculation that American Horror Story Season 7 would directly feature characters from the 2016 U.S. Presidential Election, explaining that the series will be more of an allegory than a direct retelling, like The People v. O. J. Simpson: American Crime Story.
"I said that American Horror Story's Season 7 was going to be about the election. Now did I mean this literally? No. The themes of American Horror Story have always been allegories," Murphy, who accepted the Television Showmanship of the Year distinction, explained to the crowd. "You will not see Trump and Clinton as characters on the show."
At this point, Murphy looked to his longtime collaborator Paulson — who presented his award — and seemingly changed his mind.
"Now as I look over at Sarah Paulson, I think of Kellyanne Conway," Murphy joked. "I don't know! I might be rewriting!"
Hey man — that's what you get for downing too many cocktails with Andy Cohen on Watch What Happens Live.
https://www.youtube.com/watch?v=pH9edRgIa8M?feature=oembed
Considering no one seemed to know what was happening with the most recent Roanoke season of AHS until the very last second, we're pretty sure Murphy could get away with some rewrites while they're still months out.
However, we'd be thrilled to see Paulson play a character even loosely based on Conway — and we're still too traumatized by the 2016 election IRL to relive it in horror anthology format — so we think we're getting the best of both worlds, here.