Ryan Gosling just made us all cry while thanking his "lady" Eva Mendes at the Golden Globes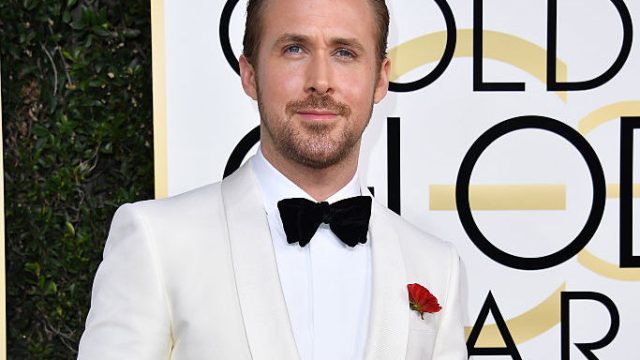 As if he needed to win us over any more than he already has (when he's a bird, we're a bird, forever), a super emotional Ryan Gosling just thanked "his lady" in his speech while accepting his Golden Globe for La La Land. The new-age-yet-totally-nostalgic movie musical has swept the Globes (we're two hours in right now and it's won literally everything it's been up for), and Ryan was a soft-shoe-in (get it?) for this impressive singing and dancing role.
But what we're currently dabbing at our eyes over? Ryan's incredibly grateful and gracious nod to his wife for allowing his involvement in La La Land to become a reality.
]Leave it to Ryan Gosling to be a gentleman at literally all times.
Ryan explained that while he was running around in front of a green screen with Emma Stone, Eva Mendes (a powerhouse in her own right) was juggling a pregnant belly, a toddler, and a brother battling cancer. Ryan explained that without Eva balancing so much, Ryan's ability to take on any new project would have been impossible. He thanked her ("his lady," swoon), his daughters, and dedicated his award to his brother-in-law, who has passed. https://www.youtube.com/watch?v=V9KaXEjs5ss
"If [Eva] hadn't taken all that on so that I could have this experience it would surely be someone else up here, Gosling explained to a rarely-silent room.
"To my daughters Amada and Esmeralda, I love you. And if I may, I would like to dedicate this to the memory of [Eva's] brother, Juan Carlos Mendez. Thank you very much to the HFPA. Good night."
Good night, Ryan. You are the epitome of class and talent and we will always love you. Too much?