Director Ryan Coogler wants to celebrate the women behind the production of "Black Panther"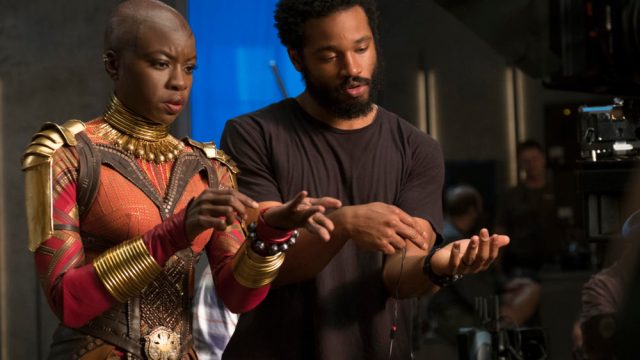 Though many have commented on Black Panther's incredibly strong female cast — which includes Angela Bassett, Lupita Nyong'o, Danai Gurira and breakout star Letitia Wright — at a press conference in Los Angeles, director Ryan Coogler made sure to also credit the amazing women involved in the production of the film, including Rachel Morrison. Morrison just happens to be the first woman nominated for an Oscar in the cinematography category.
"This film had evolved from brilliant women all over it, from start to finish," he explained to the crowd. "You know, as I said, Kevin [Feige, president of Marvel Studios] runs the studio, he does it with his right and left hand. His right hand is Lou D'Esposito, but his left hand is Victoria Alonso, who is amazing. She was there from day one. Our crew was just hired with women who were the best person for the job. They weren't hired because they were women, they were hired because they were the best for the job."
"That was our cinematographer, Rachel Morrison, our costume designer, Ruth Carter, our production designer, Hannah Beachler, and our first assistant director, who was responsible for getting everything going, Lisa Satriano," he continued. "In post production, the film was edited by Michael Shawver and Debbie Berman, who's from South Africa. And finished by Victoria Alonso.
Though hiring women is a key step in gender parity in the workplace, it's meaningless if women are not valued once hired and it was heartening to hear Coogler say that not only were women represented behind the camera, but their perspectives were integral to all stages to production and even improved the script.
"Throughout that process, it was a constant thing where Victoria would raise her hand sometimes when we were in a script meeting like, 'Yo, I don't think that should happen.' It was like, 'Okay.' You zig where you should zag. And working with these amazing women…I thought that the set was just, I was incredibly blessed to have these people, to have their perspective, and to have their fingerprints all over it. When you saw those frames, when you saw all of that stuff, that presence.  What is it? Over half of society, over half of the population. You know what I'm saying? It was there constantly and there in full effect.
In the wake of the Time's Up movement it's important to note that not only is gender parity in the workplace a matter of social justice, but that valuing female voices also improves the quality of the work, and clearly knowing this has paid off for Coogler.