Here's where you can stream Ryan Coogler's other movies before you see "Black Panther"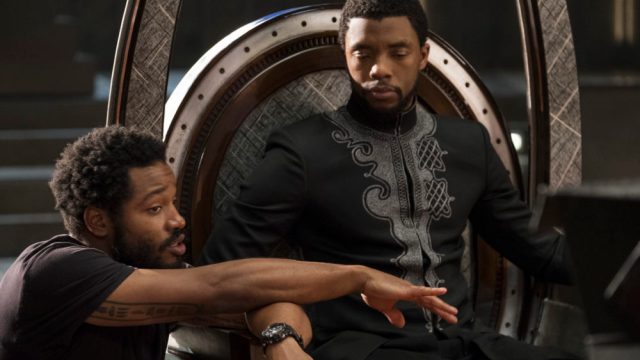 When it comes to high-profile movies that make an impact, 31-year-old director Ryan Coogler is three for three. Coogler's third feature-length film, the highly anticipated Black Panther, hits theaters Friday. But we don't have to wait until we're transported to the kingdom of Wakanda by way of our local cineplex to experience Coogler's storytelling eye. We can just look to his previous two critically acclaimed hits: Fruitvale Station and Creed.
Before he took a seat in the director's chair for Fruitvale Station in 2013, the Oakland, California native directed a series of short films during his time at the University of Southern California's School of Cinematic Arts. His early works, like 2009's Locks, earned accolades and critical attention in the film community. But Coogler didn't really have the eyes of the world on him until he told the real-life story of Oscar Grant, who was shot to death by a police officer at Oakland's Fruitvale BART station.
https://www.instagram.com/p/BeevtW_hj0E
Fruitvale Station — which is streaming now on Netflix and available for rent or purchase on Amazon, iTunes, and elsewhere — marked the first time Coogler worked with Michael B. Jordan (who plays major roles in Creed and Black Panther, too) as well as the first time the larger public got a chance to see Coogler's enormous moviemaking talent at work. Fruitvale Station cleaned up at film festivals, winning everything from the Sundance Grand Jury Prize to the AFI Awards' Best American Film designation. The movie also landed both Coogler and Jordan on Time's list of "30 People Under 30 Who Are Changing the World."
Coogler teamed up with Jordan again for 2015's Rocky spinoff, Creed. There was no second-movie slump for Coogler. Creed, which tells the story of Apollo Creed's son Adonis (Jordan), also received huge critical praise and earned Sylvester Stallone a Best Supporting Actor Oscar nomination for returning to his Rocky Balboa role. You can watch it streaming now on Hulu, Amazon Prime, and Epix. It's also available for rent or purchase on iTunes, Google Play, and elsewhere.
All three of Coogler's feature films have made waves not only for their sharp social commentary and exploration of black identity, but because they've been almost universally enjoyed. As Coogler recently told CBS This Morning regarding the cultural significance of Black Panther's release: "First things first, it's got to work as a movie. That's hard enough to do." And yet, somehow, Coogler makes it look easy.