Ruth Carter just became the first black woman to win the Oscar for Best Costume Design—and it's a big deal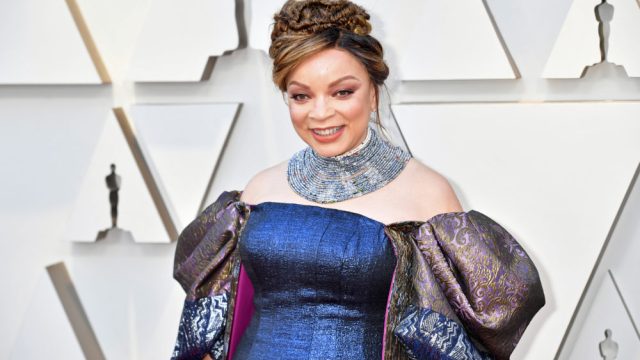 Costumes are an integral part of the movie-making process. They help establish a reality, solidify characters, and are a huge—if often unsung—part of the creative process. And costume design history has officially been made, because costume designer Ruth Carter just became the first black woman to win an Oscar for Best Costume Design for her work on Black Panther at the 2019 Oscars. This was Carter's third nomination overall (she was previously nominated for Amistad and Malcolm X). She's worked on incredible projects throughout the course of her career, including Shaft, Do The Right Thing, and How Stella Got Her Groove Back—to name just a few(and, little known fact, she worked on the pilot episode of Seinfeld).
Audience members took to their feet to give Carter a standing ovation as she took the stage, and she began her speech with a meaningful, "This has been a long time coming." She continued, "Marvel may have created the first black superhero, but through costume design we turned him into an African king."
And Twitter is here for this moment.
false
In an interview with HelloGiggles about her vision for the costuming in Black Panther, Carter recalled the challenge of creating something both traditional and futuristic, and noted that she wanted the aesthetic to feel new and fresh, yet grounded in reality.
"I wanted people to see a world that they had never experienced before. I wanted people to relate to them in many ways by infusing African culture, but also, I wanted to shake it up a little differently so that it felt fresh and new. I wanted the costumes to represent a royalty, a royal family—that we've kind of only seen in maybe one other film about Africa—but I wanted ours to be more of a realistic point of view, not a comedy."
This win is a huge moment, and we're sending Carter all our congrats.