Ruth Bader Ginsburg's strenuous workout routine is just one more reason to be endlessly inspired by this woman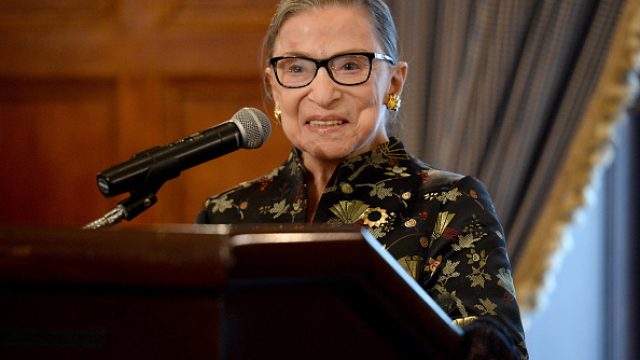 Nobody needed further proof that the Notorious RBG is the most badass woman alive — but we've got some for you anyway: Ruth Bader Ginsburg's strenuous workout routine is just one more reason we are endlessly inspired by this iconic Supreme Court Justice. We all know that Ginsburg is a force to be reckoned with on the bench, and the same is true when she hits the gym for her workouts.
Ben Schreckinger, a "young and reasonably fit" Politico reporter, headed to the gym with Ginsburg's personal trainer Bryant Johnson to go through the same workout routine as the 83-year-old Supreme Court Justice.
"I thought the workout would be pattycake, but it was much harder than I expected. Ginsburg's personal trainer, it turns out, is no joke," Schreckinger wrote.
So, what exactly does this "no joke" workout entail? Here's what goes down twice a week in the Supreme Court Gym.
Ginsburg starts with light stretching and five minutes on the elliptical — then it gets serious.
She performs strength exercises including leg presses, leg curls, chest flies, and lat pull-downs. Oh, and did we mention RBG bench presses 70 pounds?
But wait — there's more! Ginsburg's 90-minute workout also includes one-legged squats, push ups, planks, exercise-ball work, and medicine ball tossing.
https://www.instagram.com/p/BQ4LFG-jlrP
Schreckinger lived to tell the tale (and recount the experience for Politico, of course), but it was no walk in the park — and Bryant repeatedly reminded him that Ginsburg does everything better than he does.
How did RBG react when she learned an unwitting reporter was about to attempt her workout routine?
"I hope he makes it through," she responded.
Everyone knows not to mess with Ginsburg on the bench — and now we know that it would also be unwise to challenge her at the gym. One word: Queen.