National hero Ruth Bader Ginsburg hung out with Justin Theroux and Armie Hammer, and there's picture proof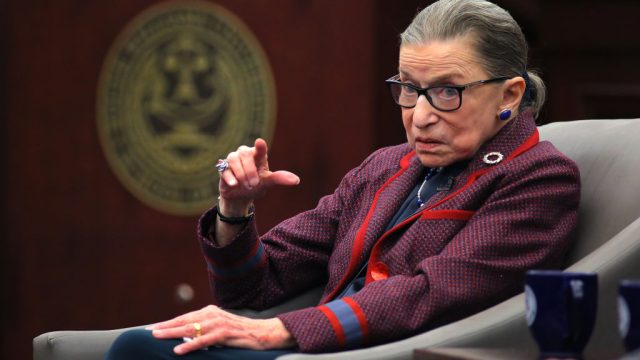 National hero, gawdess, and Supreme Court Justice Ruth Bader Ginsburg recently spent some quality time with actors Justin Theroux and Armie Hammer, because why not throw a little more "Wait, what?" into 2018 before the year is up? Okay, it's not a totally random trio: both Theroux and Hammer star in the upcoming RBG biopic On the Basis of Sex, so it makes sense that they'd eventually meet the inspiration behind the film.
In the film, Hammer plays RBG's late husband Martin D. Ginsburg and Theroux appears as former ACLU director Mel Wulf. It's unclear why Felicity Jones—who stars in the film as the historic Supreme Court justice—wasn't there, but the two dudes went to D.C. to promote the film where they met their muse. Both men posed for photos with Ginsburg ("New Couple Alert," Theroux joked) and then playfully fought over her on Instagram.
https://www.instagram.com/p/BrRNBLShHRu
On the Basis of Sex was written by Ginsburg's nephew Daniel Stiepleman and the film follows Ginsburg as a young mother as she and her husband argue a case before the U.S. Court of Appeals about a man who was discriminated against by the IRS because he was a caregiver and the law at that time only recognized women as caregivers.
Director Mimi Leder revealed at CinemaCon earlier this year (via The Hollywood Reporter) that the Justice "loves the movie" and called Jones' performance "magnificent."
https://www.youtube.com/watch?v=28dHbIR_NB4?feature=oembed
On the Basis of Sex hits theaters this Christmas.