Russia has been banned from the 2018 Winter Olympics for doping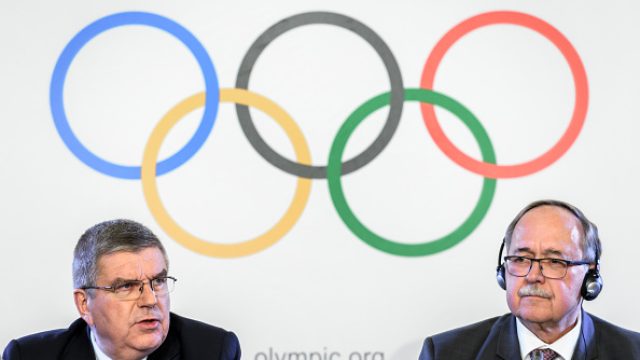 The Olympics are considered a time when the world comes together to celebrate athletes. But this year, The International Olympics Committee has banned Russia from the 2018 Winter Olympics in Pyeongchang, South Korea.
The IOC announced the ban on December 5th, after an investigation into the Russian government's support of doping. The investigation found that Russia's sports ministry had ordered a team to tamper with more than 100 urine samples at the Olympic drug testing lab during the 2014 Olympics in Sochi. The scheme concealed athletes' steroid use throughout the duration of the games.
Russian officials will not be able to attend the ceremonies, which start on February 9th, and Russia's flag and national anthem will not appear in any Olympic events. Official records will list Russia's medal count as zero.
Russia's Minister of Sport and Deputy Minister of Sport at the time of the doping scandal have been banned from Olympic events for life. But Russian athletes who can prove they're clean will be able to compete in Pyeongchang under the Olympic flag.
The Russian Olympic Committee was also fined $15 million to reimburse the IOC for the costs of the investigation.
"This was an unprecedented attack on the integrity of the Olympic Games and sports," IOC president Thomas Bach said. "This should draw a line under this damaging episode and serve as a catalyst for a more effective anti-doping system."
Bach said that if the Russian government complies with the IOC's demands, the country may be recognized at the closing ceremonies.
The investigation began when Doctor Grigory Rodchenkov, who directed the Russian anti-doping lab during the Sochi Olympics, admitted that he had switched urine samples and had manufactured substances to help improve athletes' performance. Canadian sports lawyer Richard McLaren investigated this claims and found that 1,000 athletes in 30 sports benefited from the doping, which occurred from 2012 to 2015.
Russia isn't the first country to be banned from the Olympics. India was banned from competing in the 2014 Sochi Olympics, but the ban was lifted during the games. Kuwait was also banned from the 2016 Rio de Janeiro Olympics.
We hope that the Russian Olympic Committee cooperates with the IOC's requests. But for now, we'll be looking forward to watching the 2018 Winter Olympics and hoping that clean athletes get the acknowledgement they deserve.