Rupert Grint did a dramatic reading of Ed Sheeran's "Shape Of You," and it's almost too charming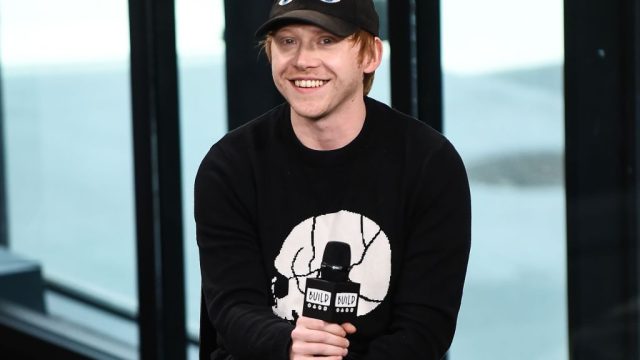 Rupert Grint introduced himself to the world as the iconic Ron Weasley in Harry Potter. But since then, he's proved to have excellent range beyond the world of Hogwarts. His acting chops can make anything he touches feel like, well, magic.
The Yahoo! video has since become really popular amongst people who love hunky redheads for obvious reasons. Grint, who even jokes about getting mistaken for Sheeran, absolutely nails the lyrics. He stares intensely at the camera saying these familiar words in a totally new way.
And it's giving us more shivers than an approaching Dementor.
Unlike the creepy Harry Potter characters, though, this video gives us a different kind of shiver. Though there are hints of a smile in his face, the actor takes his job of translating the lyrics to dialogue very seriously. And he makes us wish we were the lucky lady he is talking about.
Okay, sure, he giggles a little bit at points.
But he wouldn't be Rupert Grint without a enjoyable laugh or two throughout the video. After all, he has world-renowned sense of humor.
Grint is no stranger to Ed Sheeran's music. In fact, he starred in Sheeran's "Lego House" music video. And, ICYMI, it is as wonderful as it sounds.
https://www.youtube.com/watch?v=c4BLVznuWnU?feature=oembed
Plenty of celebs have dramatically read popular song lyrics before. But we have to admit that we have a special place in our hearts for both these performers. So anytime they decide to collaborate — even if they're just joking around — we're totally on board.