Tom Felton Had the Perfect Response to Rupert Grint Joining Instagram
Felton also sent his well wishes to baby Wednesday.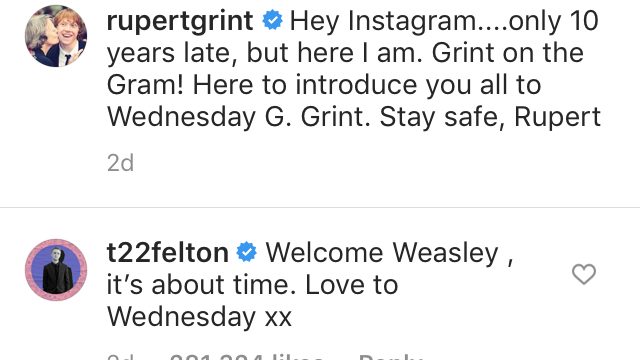 Update, November 12th, 2020: You thought you were excited that Rupert Grint finally joined Instagram? His fellow Harry Potter alum may have you beat on the excitement scale. Tom Felton, who played Draco Malfoy opposite Grint's Ron Weasley in the Harry Potter franchise, left a chef's kiss comment on Grint's first photo of himself and daughter, Wednesday, and nearly broke the app.
Welcome Weasley, it's about time, Felton wrote on Grint's first-ever Instagram post. He should have added *Draco Malfoy voice* at the top, but even without it, the comment is seeping with pure Draco sarcasm and snideness.
He capped the comment with a much softer, "Love to Wednesday xx."
Felton's comment racked up over 280,000 likes in just two days time, and now we're really excited to see this bromance blossom online, as it did off.
Original Post, November 11th, 2020: Rupert Grint finally joined Instagram, blessed us with a photo of his baby daughter, and revealed her name all at the same time. It's a lot to process all at once, so let's go back a bit first. The formerly Instagramless Harry Potter alum welcomed a baby girl with his longtime partner Georgia Groome (star of Angus, Thongs, and Perfect Snogging) back in May of this year, Insider reports. Though the couple has reportedly been dating since 2011, they've kept their relationship under wraps and their representatives asked sources to respect their privacy throughout the pregnancy and after welcoming their child.
However, Grint's recent Instagram debut shows that the new dad must have been itching to share his excitement with the world. "Hey Instagram….only 10 years late, but here I am. Grint on the Gram!" he captioned his first and, at this time, only post on November 10th, alongside an image of him holding his daughter on his chest.
Here to introduce you all to Wednesday G. Grint, he continued. Stay safe, Rupert.
To say our hearts are melting is, quite frankly, an understatement, because we're pretty sure this Instagram arrival just saved the whole year. "2020 making a quick turnaround," one commenter agreed, and having already racked up over two million likes in 24 hours, Grint may just be the savior we've been waiting months for.
Can we also talk about how Grint's Instagram profile picture is an image of him being kissed on the cheek by Maggie Smith (AKA Professor Minerva McGonagall) on the red carpet? Cuteness overload in more ways than one.