"RuPaul's Drag Race" Season 10, Episode 6: Blair St. Clair opens up about surviving sexual assault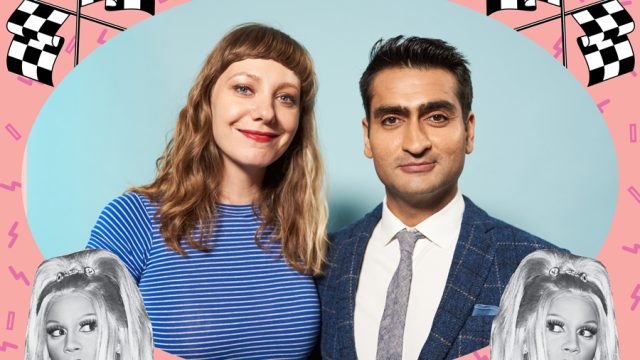 This post contains spoilers for Episode 6 of RuPaul's Drag Race Season 10. Trigger Warning: This recap also describes sexual assault. 
The queens are back in competition after Mayhem Miller's elimination last week, and Episode 6 of RuPaul's Drag Race Season 10 is about all things DragCon (Ru loves a good promo opportunity!) — or the multi-day event celebrating Drag Race through fan meet and greets, Q&As, panels, and more.
After a mini challenge inspired by the "Sitting on a Secret" track from All Stars 3 (the queens literally sit on various objects while blindfolded — fax machine, eggplant, pork chop, etc. — and guess what they are sitting on), the girls learn that their maxi challenge will be creating their own panel for DragCon. Each team — one focusing on body, one on face, and one on wigs — will organize a panel discussion, give a demonstration, and then answer questions from a live audience.
As usual, the werk room allows for important conversations about queerness to happen. Kameron Michaels (aka this season's ~hottie~) is on Team Body with Eureka O'Hara and Monét X Change, and he shares a unique perspective about body image, masculinity, and drag that viewers haven't really heard discussed on Drag Race. What happens when you have the muscular physique of a body builder, as Kameron does, but the art of mainstream drag asks you to feminize your form with padding?
In a werk room conversation with Asia, Kameron explains how other queens made him feel self-conscious about his form. He struggled to find a balance between embracing his fitness and doing drag at all. He goes on to say that he never showed his arms on stage, which was a challenge — but says that competing on Drag Race has helped him let go of those insecurities: "It doesn't matter your body shape. You should be able to put on a dress and put on a wig and go get your life and perform for people."
On the main stage, this episode's judging panel was joined by the Oscar-nominated power couple and screenwriting duo from The Big Sick, Kumail Nanjiani and Emily V. Gordon. (Emily is such a Drag Race fangirl and smiles so earnestly during every panel and we are #relating)
Team Body, or "Proportionizing," slayed their panel with excellent chemistry, great moderating by Eureka, fun branding ("proportionizing: creating the perfect silhouette"), and informative insight into the art of drag and padding. Drag is all illusion, so they took a mechanical topic like padding and made it fun, visual, and comedic (who else loved Monet's "Big Booty Judy" lesson?). They set the bar quite high for the "Painted For Filth" panel (Monique Heart, Asia O'Hara, Aquaria) and "Wigaholics" panel (The Vixen, Blair St. Clair, Miz Cracker).
The runway challenge, "Hat's Incredible," graced us with some glorious ensembles. (Also shout out to Monique Heart's hilarious quip about making her outfits last minute and from scratch because of a lack of money: "I came to this competition with glitter and Jesus, and bitch, I'm making it work.") The queens came through with some Kentucky Derby and My Fair Lady realness with inventive and extravagant headpieces.
"Proportionizing" wins the maxi challenge, placing Eureka, Monét, and Kameron in the Top 3. The Bottom 3 are the girls from Painted For Filth: Miz Cracker, Blair, and The Vixen.
During the judge's critiques of the Bottom 3, Blair courageously opens up about being a rape survivor.
Michelle Visage praises Blair's breathtaking Southern Bell look on the runway, but comments that she seemed "nonexistent" on her panel. Ross Mathews describes her stage presence as a "dessert on the menu" that's just "too sweet" to order. Following these remarks about her sweetness, Blair begins crying:
"I've come from some really dark moments in my life, and I want to lighten them up and become more positive. I'm urged to find the daintiness because I feel dirty at times."
She continues, "My first sexual experience — I was raped at a college party, and from that I've looked to find pretty things. It's something I need to get over, but I've tried to turn positive the best I can." 
Ru commends and celebrates Blair for speaking so openly about such a traumatic memory, and her sisters support her on stage. (The Vixen: "I can't wait to find that motherfucker," meaning Blair's attacker).
In the end, Eureka was the runway winner, and Blair and Vixen found themselves lip syncing for their lives to "I'm Coming Out" by the one and only Diana Ross. It's a fantastic lip sync: Blair slays, throwing off her hat and dropping to her knees. Vixen crawls, plays the air-saxophone, tumbles, and death drops. But Ru makes her decision, and Blair is told to sashay away. It's an emotional elimination, so immediately following Blair's testimony about the violence she endured in college. It's clear that her Drag Race sisters feel it too, with lots of hugs and support seen before heading backstage. Blair says,"I'm glad I got to share my story, and I hope maybe someone can relate somewhere. I think I'm leaving a stronger person."
Next week's episode brings us the much anticipated Snatch Game, along with an appearance by Season 6 winner Bianca Del Rio! Watch next Thursday at 8 p.m. on VH1 for all the fabulosity.
If you are a sexual assault survivor and need help, you can call the National Sexual Assault Telephone Hotline at 1-800-656-4673 to speak to a trained counselor. You can also chat online with a counselor here. Both services are available 24/7.