From Alyssa Edwards's flawless return to Kalorie's body positivity, here are our fave moments from the latest episode of "RuPaul's Drag Race"
"One down… thirteen to go!" shouts Monét X Change as the remaining queens of RuPaul's Drag Race Season 10 strut into the werk room fresh off of Vanessa Vanjie Mateo's elimination last week. On the season's second episode, which aired March 29th, the queens learned choreography and performed in the lip sync extravaganza PharmaRusical, a pill-poppin' pun-laden musical about pharmaceutical drug commercials (yes, you read that right). But before the queens bust out their Broadway chops, Andy Cohen, yes THAT Andy Cohen (who is visibly a solid 1.5 feet shorter standing next to glamazon RuPaul, btw) stops by for a little hoedown showdown mini-challenge.
The Vixen and Asia emerge as the winners of the country-themed mini challenge, which asked the queens to dress up in farm girl attire and perform entertaining freestyle choreography. As the winners, Vixen and Asia select teams for the musical performance, choreographed by the one and only Alyssa Edwards.
Not only did we get to reunite with the tongue-popping Drag Race legend Miss Edwards, but we got some extra special guest judges, too: Pop star Halsey and author, actress, model, television host, and Sylk in Mariah Carey's Glitter, Padma Lakshmi.
So what were the fiercest moments in Episode 2 of RuPaul's Drag Race? Let us guide you.
1That squirrel friend moment between Ru and Michelle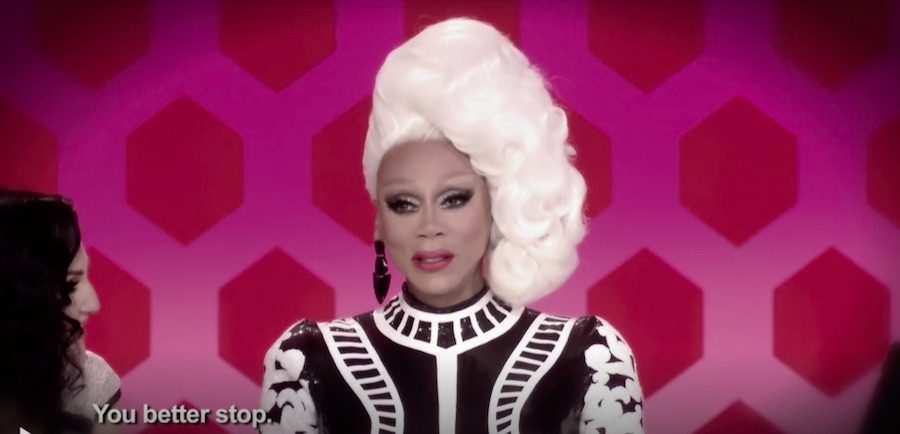 She may have been the first queen to go on last week's premiere, but a name that we certainly NEVER will forget is Vanessa Vanjie Mateo. ("Vanjie…Vanjie…Vanjie…"). The episode begins with the thirteen remaining queens huddled in the werk room after Vanjie's elimination, giggling over the eliminated queen's knack for repetition. Eureka points out that even Ru and Michelle were laughing when Vanjie exited the runway — cut to one of the most genuine moments of friendship we've ever witnessed on the show between longterm show biz partners Michelle and RuPaul.
"I didn't get the name — what was it?" Ru sarcastically whispers to Michelle, who then repeats "Vanjie" over and over as Ru struggles to stifle her laughter. Now, Ru's laugh is ICONIC (it's literally the transition sound between the show's scenes), so hearing Mama Ru attempt to mute her laughter was kind of life-giving??? Her eyes literally water as she whispers to Michelle, "You better stop." It was a genuinely beautiful representation of squirrel fraaandship between Michelle and Ru — like when you were in middle school and tried to make your friends laugh during their presentations in front of the class.
2Aquacker feud brought to you by The Vixen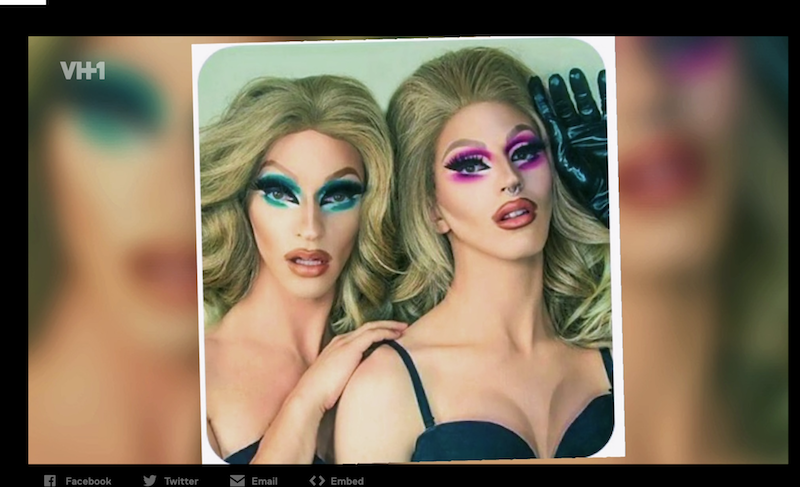 So we're still of the belief that producers are shaping this feud between lookalikes Aquaria and Miz Cracker into the Season 10 version of Alyssa Edwards, Coco Montrese, and their bitter pageant past. As the girls talk backstage after the Episode 1 elimination, Aquaria tries to downplay her frustration with Miz Cracker's similar face makeup. The Vixen, however, isn't having it (GOD LOVE HER) and stirs. that. pot. like. Betty. Crocker.
With a single whiplash-causing neck spin, she turns to Aquaria and calls out her #fakeness, shouting "YOU WERE MAD. BE MAD TO HER FACE." The Vixen successfully nudges Aquacker (portmanteau for convenience's sake) to get into an argument, and we are right there with Monét X Change, reveling in Vixen's ability to find that ~drama.~ false
We also get a little more insight into their feud. Miz Cracker tells the cameras that she and Aquaria were actually once close friends. Years ago, Aquaria even taught Cracker how to do her makeup in a twin-themed photo shoot starring both of them. Cracker acknowledges, however, that she needs to make sure she does not subconsciously mimic Aquaria's looks, delivering a SICK BURN in the process:
"I just did a look that I know for a fact she has never done. It's called being on top."
3RuPaul's Drag Race x Real Housewives
Bravo's own Andy Cohen dons some Western-themed attire to make a guest appearance and help judge this week's dance-centric mini-challenge, the "Hay Girl Hay Hoedown." Seeing Andy and Ru try to line dance with each other was certainly a moment in itself, but did anyone else catch that Real Housewives-style greeting by the queens? They low-key say "Hi Anndddyyyy" with the same cadence as the housewives in the reunion specials.
4Alyssa Edwards
Alyssa Edwards's mere existence is a "moment," and from that first tongue pop on tonight's episode, we were in for a treat. When she is revealed as the choreographer of PharmaRusical — with that platinum blonde wig, those pageant queen red lips, a shoutout to her Texas dance studio Beyond Belief, and her A Chorus Line-esque leotard-blazer combo — all was right in the world. Not only was it fabulous watching Miss Edwards impart Drag Race wisdom and shine as the dancer/choreographer that she is, but her one liners were gems as usual:
"Nicki Minaj-aj-aj it," while instructing the queens to twerk.
"You think you're clever, don't you?" when Kalorie tells her it's KARBdashian, not Kardashian.
"Bigger eyes, like Aubrey O'Day."
"I've been in your pumps," while commiserating with the stressed-out girls.
Can Alyssa Edwards tongue pop and choreograph her way throughout this entire season?
5Kalorie gets real about body image
Yes, we love the one liners on Drag Race, but the show's power also comes from those deep conversations between queens in the werk room, touching on everything from health, to politics, to sexuality, to eating disorders. In this episode, we learn more about Kalorie. The self-described "big girl" tells the queens that she has actually lost a significant amount of weight after experiencing years of horrific, violent bullying. Having grown up in a small New Mexico town, Kalorie says, "I thought I'd be made fun of for being gay, but it was because I was fat."
She explains that after watching Jujubee sashay down the runway on Drag Race Season 2, she began performing in drag to learn how to embrace her body. Then, it was the persona of Kalorie who taught her that she was beautiful.
Jujubee tweeted her support during the episode. false
6All the "Drag Race" references in PharmaRusical
While the queens lip synced and danced to drug commercial parodies (like a pill that prevents you from uttering cliché drag phrases like "YAS QUEEN"), they also sang nods to iconic moments of Drag Race past. A few of our fave references? A call out to Latrice Royale's "Good God girl get a grip," Phi Phi O'Hara's, "Why don't you go back to Party City where you belong," Lashauwn Beyond's "This is not RuPaul's Best Friend Race," and a pill named after Pearl's "Flazeda."
7The Vixen, Monique Heart, and Dusty Ray Bottoms's looks for the Best Drag category
Our three fave runway looks for tonight:
#hot
https://www.instagram.com/p/Bg7hDNbhRW4
Googly. Eyes. For. Hats.
https://www.instagram.com/p/Bg7g2bShZZg
Beetlejuice realness.
***
Despite their shaky rehearsal, The Vixen's team won the PharmaRusical challenge, and Vixen won the challenge in its entirety! (She is unstoppable and definitely one to watch — having just won the mini challenge too.) Eureka and Kalorie found themselves lip syncing for their lives to "Best of My Love" by Emotions. It was Kalorie's second time in the Bottom Two in just two episodes, and unfortunately, it was also Kalorie's time to sashay away. Still, she left her mark on the show, both as New Mexico's first Drag Race queen and as a body positive influence. Ru said it herself: "My dear, a Kalorie-free Drag Race just won't be the same."
Catch next week's episode of RuPaul's Drag Race on Thursday at 8 p.m. on VH1!