"RuPaul's Drag Race" just totally swept the Emmy nominations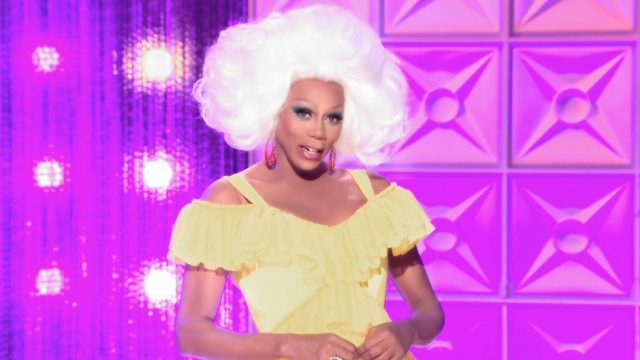 Condragulations are in order as RuPaul's Drag Race just SLAYED the Emmy nominations, and things are about to get sickening.
Yesterday (July 14th) the Emmy nominations were announced, and while some of our favorite shows were distinctly lacking from the nods, we were so happy to see that amazing shows like The Handmaid's Tale and This Is Us are being recognized for being awesome.
And we're especially proud and excited that RuPaul's Drag Race has been nominated for 8 (!) Emmys.
This isn't the first time that RuPaul and his reality TV contest to find America's Next Drag Superstar have been nominated for an Emmy. In fact, last year the Supermodel of the World picked up his first award for Outstanding Host for a Reality Competition Program for the show's eighth season.
But this year the reality show has been nominated for more than just one award. Alongside the category of Outstanding Host for a Reality Competition Program, Drag Race has also been nominated for Outstanding Makeup, Outstanding Hairstyling, Outstanding Picture Editing, Outstanding Costumes, Outstanding Casting, and the big guns: Outstanding Reality Competition Program.
This joyous drag news comes after the show's ninth season really stepped it up. The show brought in extra special guest judges such as Lady Gaga, Kesha, and Meghan Trainor, while showcasing some of the show's most outrageous and memorable moments in Drag Race herstory yet ("Valentina, we need to see your lips. Take that thing off of your mouth."). This season also brought in the show's highest ratings, too.
Speaking about the show's nominations, producers Randy Barbato and Tom Campbell expressed their excitement, and why they think the show keeps getting better.
"These are very dark and tumultuous times we're living in. RuPaul's Drag Race delivers a ray of light during dark times," Barbato told Entertainment Tonight. "It reminds people that there's hope in our world. If you're an outsider or you don't fit in, there's a place for you. There's a family for you. Other shows have one gay character or two characters. We have the full pu pu platter."
Sharing his own statement, Drag Race matriarch RuPaul said that he was honored to be nominated.
"I want to thank the academy for honoring the entire cast and crew of 'RuPaul's Drag Race,' my family at World of Wonder, and our champions at VH1," he said in a statement. "It takes a village, people! Their creativity and dedication to telling the stories of our brave and talented queens never ceases to amaze, amuse and inspire." 
Meanwhile, fans of the show have been speculating that production could be underway for All Stars 3. The second season, which aired last year, saw Alaska take home the crown as the second ever All Star.
We're sending a big condragulations to RuPaul and everyone involved with Drag Race! Good luck (with the Emmys), and don't f*ck it up…