"RuPaul's Drag Race" gave us Christina Aguilera, herstory, and new werk room drama in the Season 10 premiere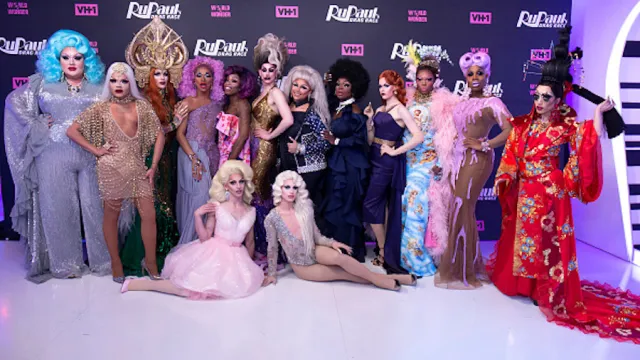 This recap contains spoilers for the first episode of RuPaul's Drag Race Season 10.
It feels like it was just last week that Trixie Mattel snatched the crown on RuPaul's Drag Race All Stars 3 (…because it was just last week), but RuPaul's Drag Race is already back, back, back again with Season 10 *and* Christina Aguilera. On March 22nd, we finally watched the Season 10 queens sashay into the (newly remodeled!) werk room and take on mini and maxi challenges that honored the last DECADE of RuPaul's Drag Race.
We were immediately reacquainted with Eureka, who had to leave the Season 9 competition early due to a serious knee injury. Freshly healed for Season 10, Eureka served fire emoji realness in a red, orange, and yellow flame-evoking ensemble. While the rest of the queens may be new to most television viewers, they're already stars in the drag community and many have ties to past queens. For starters, Mayhem Miller has spent years auditioning for Drag Race and is from the same drag family as Raven, Detox, Morgan McMichaels, and Delta Work. Miz Cracker is Bob The Drag Queen's drag daughter, and Vanessa Vanjie Mateo is Alexis Mateo's drag daughter.
After the werk room entrances, RuPaul introduced the first mini challenge of the season — the Stand Out From The Crowd Challenge — with some incredible wordplay that any Drag Race fan would gag over. Instructed to sashay (and/or vogue and/or cartwheel) down a runway flanked by iconic Drag Race queens, Ru uttered the following monologue peppered with the names of past winners:
"I don't wanna Jinx ya, but Monsoon you'll BeBe Sharon the spotlight with queens that would Raja you were dead. You need to go above and Bianca for the crown you Vi-olet the other queens steal your thunder, so don't settle for a Bob. The Drag Queen with the biggest hair is closest to ~yes god~, and if at first you don't succeed, Tyra, Tyra again. So will you be America's Next Drag Superstar or the first to Sasha away?"
Trixie Mattel, Katya, Jinx Monsoon, Bob the Drag Queen, Adore Delano, Peppermint, Derrick Barry, and numerous other past queens brought their trademark wit and fashion to the premiere to support Season 10 queens as they danced down the runway. Monét X Change, in a Rosie the Riveter-esque look, won the mini challenge after delighting the audience with her humorous death drops.
For the maxi challenge, RuPaul once again called back to Drag Race herstory and announced that the girls would be doing the Drag On A Dime Challenge — which was the very first challenge on the very first episode of RuPaul's Drag Race 10 years ago.
The queens had to construct runway outfits with nothing but odds and ends from the 99 Cents Only Store — resulting in a gorgeous gown built from sponges (Monét X Change), a "leather" cocktail dress expertly crafted from garbage bags and latex gloves (Mayhem Miller), a peplum collar made from wide-brimmed sun hats (Miz Cracker), a Vivienne-Westwood-meets-Judy-Jetson garment created from sun visors (Blair St. Clair), a superbly constructed Queen of Hearts look made only with decks of cards (Monique Heart — was anyone else shocked that Monique was only safe?!), and more.
https://www.instagram.com/p/BgphqtHh3DM
After excusing the safe contestants, we were left with Miz Cracker, Mayhem Miller, Kalorie Karbdashian-Williams, Yahua Hamasaki, Dusty Ray Bottoms, and Vanessa Vanjie Mateo, representing the top and bottom queens of the week — when RuPaul announced that she had a surprise: Season 9 queen Farrah Moan would be returning to the competition that night…
EXCEPT SHE WAS KIDDING BECAUSE IT WAS CHRISTINA AGUILERA (and that's why Xtina looked so identical to Farrah in those episode previews!).
After blessing us with a classic Xtina vocal run that made the queens go crazy, the pop legend joined judges RuPaul, Michelle Visage, Carson Kressley, and Ross Matthews to critique the six remaining contestants. A rightfully emotional Mayhem Miller was named the winner, nailing her first challenge after years of auditioning for Drag Race.
Vanessa and Kalorie, however, lip synced for their lives to "Ain't No Other Man" (appropriate, considering the guest judge), and Vanessa was told to sashay away. She may be the first girl to go home, but her creative, campy runway look decorated with knockoff 99 Cent Store Barbie dolls will never be forgotten.
What will happen during next week's lip sync extravaganza, "Pharmarusical?"  What will guest judges Halsey and Padma Lakshmi think of the queens? Is the newly introduced feud between look-a-likes and longtime rivals Aquaria and Miz Cracker the Season 10 version of Alyssa Edwards and Coco Montrese? Can Christina Aguilera dress up like Farrah Moan on every episode this season? Watch next Thursday at 8 p.m. on VH1 to find out!