What's it's like to run an international clothing brand at the age of 23
In this week's Working Girl Diaries, meet Conna Walker, she is the founder of the popular red carpet brand House of CB which is beloved by celebs like Jennifer Lopez and Kylie Jenner. She launched the brand six years ago from her bedroom and now oversees all aspects of the company which includes four brick-and-mortar stores in the UK and is, wait for it, 23-years-old. Here are three days in her life.
Day 1
7:00 a.m.: Wake up and the first thing I do is check my phone, House of CB (HoCB) has offices in a few different countries so I always have messages to check when I get up.
7:35 a.m.: Shower and get ready to head to my design studio. I'm usually pretty lazy in my work attire and stick to super casual pieces.
8:30 a.m.: Drive to the design studio, I actually get a lot of thinking done while driving.
9:30 a.m.: My designers and sample makers start at 9:00 a.m. so they usually have sketches to show me by the time I get there. At the start of the week I give them a brief and they come up with sketches from that. I pick which ones I like, what changes I want to see and then they begin coloring them up.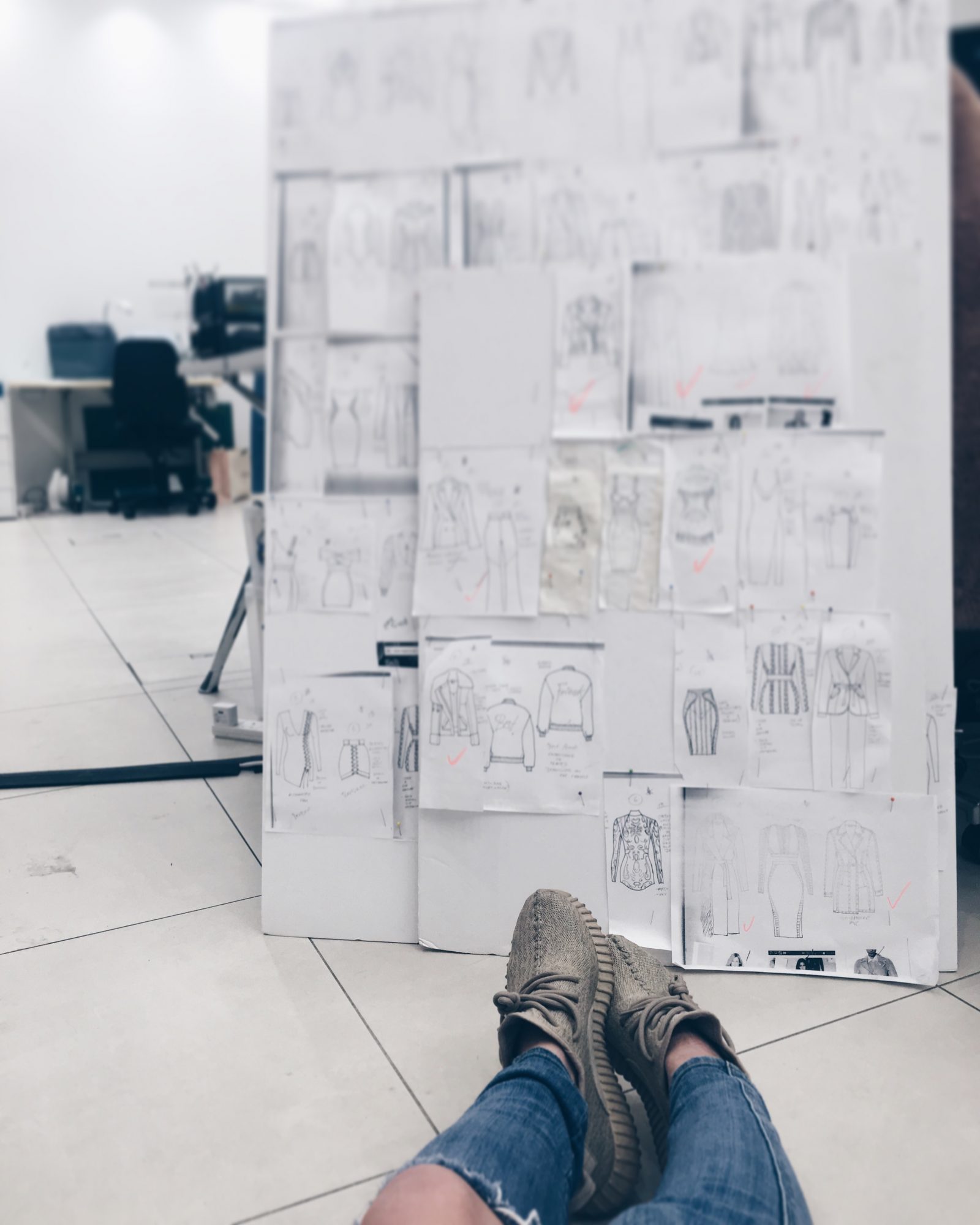 10:30 a.m.: My sample team have some samples they've made to show me, usually these are already perfect but sometimes things just don't translate well from sketch to real life so changes have to be made.
11:00 a.m.: My assistant Nadia has a ton of questions for me and things I need to sign off on, especially to do with our new store opening in LA. We are doing a trial run of our bespoke Snapchat filter in the London store before the LA opening.
12:30 p.m.: Nadia and I go grab some lunch, we go for Nandos because well, it's delicious.
1:45 p.m.: I have a system that tracks where each design is in the process from sketch to delivered product. I check this daily because we release new pieces every Monday and each week has to vaguely match and work together almost as a mini collection.
3:00 p.m.: Fittings time! We do this once a week, and because we get so many samples, it can literally take hours.  From garment tech and sample team to the designers, the whole team gets together for fittings because it takes everyone's expertise.
4:00 p.m.: I've already cancelled five pieces. Everyone hates it when I cut their work, but if I don't feel my customers will like it, then its got to go!
6:00 p.m.: Fittings are finally finished! Time for me to go home.
9:30 p.m.: I'm at Hakkasan with some friends and we will be eating and drinking here for hours. Good friends and good banter = my kinda night.
1:00 a.m.: Home now. I drank too much. ?
Day 2
7:00 a.m.: Regretting drinking so much last night, but I still have to work. I do my usual phone check and answer emails and messages. Throughout a day, I probably get around 300 messages.
8:00 a.m.: Get up and get ready for the day. I fly to LA today so I have a couple errands to run.
10:00 a.m.: Meeting with some embellishment manufacturers in the design studio, we want to do some crazy embellished pieces for our Christmas collection. We design six-eight months in advance so it all needs to happen now.
11:00 a.m.: There are production delays and fabric issues on quite a few pieces, so they need to be moved in terms of their release date and alternative fabrics picked. My designers have to come up with some more options ASAP.
1:00 p.m.: Nadia calls me to confirm several things about a shoot in LA we are doing.  All shoots and creative processes I'm super controlling about. Nothing happens without me saying so.
2:00 p.m.: Get to Heathrow for my flight to LAX.
4:15 p.m.: And we're off! I spend a few hours of the flight writing up a new marketing plan for the next few months, looking at sales reports and the rest I spend watching movies and sleeping. Lucky to have a flat bed for 11 hours.
7:25 p.m.: Landed in Los Angeles!
9:00 p.m.: One of my best friends Candis lives about 15 minutes away from me so I head to her place for tacos.
11:00 p.m.: I'm exhausted from the flight and jet lag, time to sleep.
Day 3
5:00 a.m: The first week or so of being in LA, I wake up at ridiculous hours. I do always wake up early here because it's eight hours behind my London office and they are waiting on replies from me.
7:00 a.m.: Workout time with my trainer. I'm trying to get in shape but I'm not remotely motivated for it and I hate working out.
8:30 a.m.: I'm at the building site that is turning into my first USA store. 8448 Melrose Ave will be open soon, but right now it looks like a mess. I have to pick a marble that I want to go in the front of the store. There are so many marble options they all start looking the same.
9:00 a.m.: Time for a photo shoot. The usual suspects arrive to get glammed and ready for the shoot. I usually book the same team over and over again. They work well together and know what I want. If it ain't broke!
11:00 a.m.: I usually only allow two hours for glam, we have 15 looks to get through so we have to get moving. We do about 50 – 60 looks and run through everything quick and efficiently.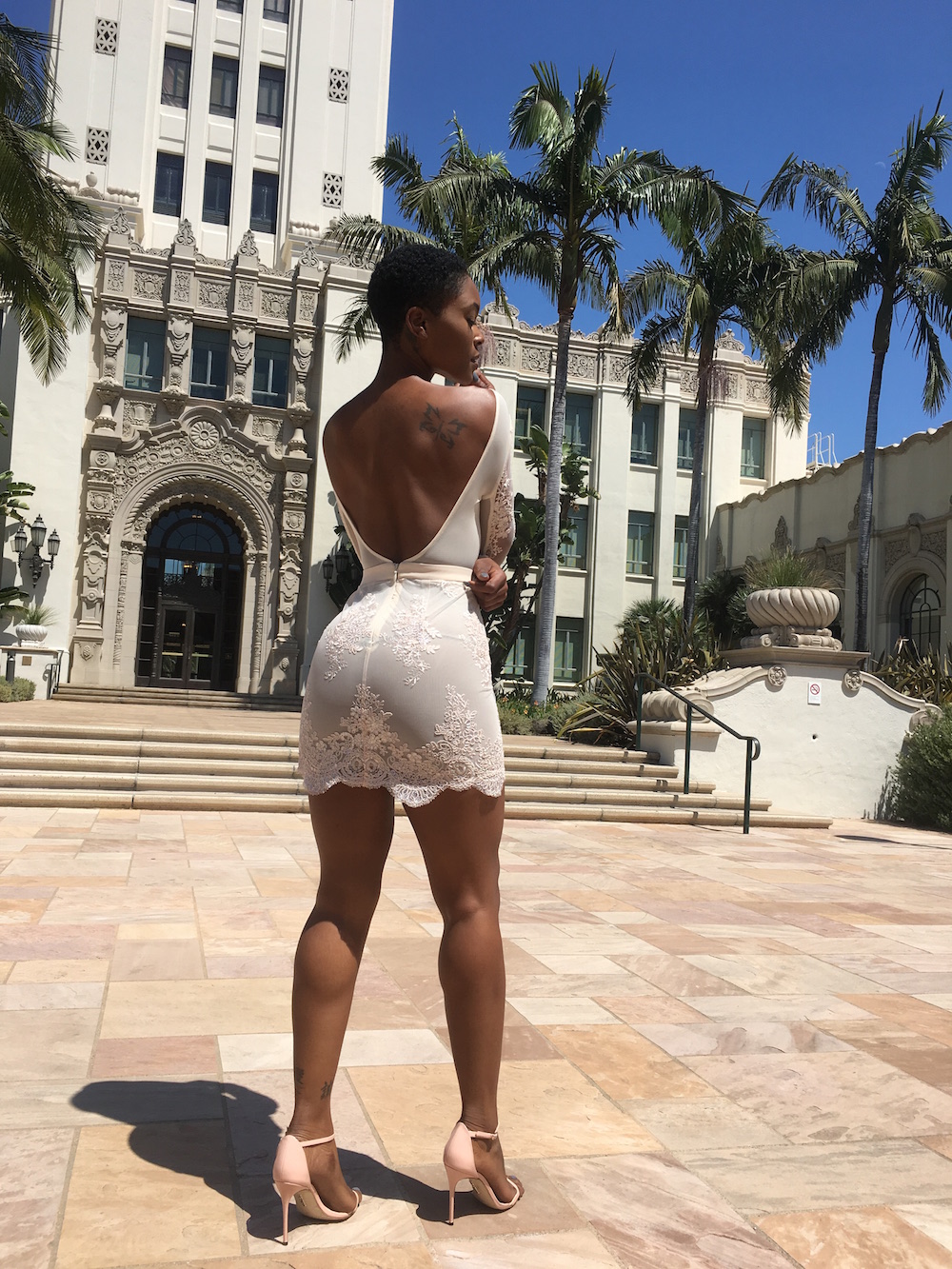 1:00 p.m.: It's so hot, I don't know how the models do it in six-inch heels, changing in and out of HoCB pieces, which are usually tight, form-fitting bandage dresses!
2:00 p.m.: Time for food, we order some pizza. Models eat pizza, especially on my shoots.
3:45 p.m.: I get a reply from the manager of a big celebrity that I want to attend the opening, so far it's looking like good news. Nadia has been texting me pictures of flower walls and popcorn holders all day for the opening party. LA rules are new to me and we just found out we need permits for everything, so its gonna delay our party a little.
5:30 p.m.: Shoot wrapped!
8:30 p.m.: I'm back out with my model Muriel, who also happens to be one of my best friends. We eat out most nights, I can't cook to save my life.
9:00 p.m.: The photographer sends me the proofs to pick our main images from. I'll check these over once I get home.
12:00 a.m.: Back home picking the final images from the shoot and jet lag has kicked in again. I'm also starting to get messages from my London staff again, but I'll facetime them in the morning – I need to sleep!