This woman is sending rude comments back to their authors — in cake form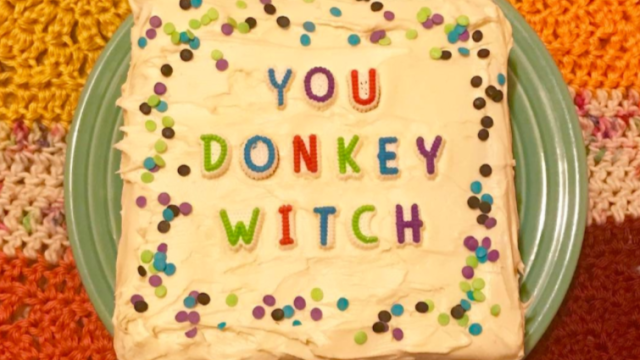 When internet trolls attack, it isn't always productive to fight back with words. Things don't always end like you hope, and it's just not worth your time or frustration. Which is why one woman is fighting back… with dessert. That's right, baker Kat Thek created "Troll Cakes" — the ultimate form of sweet revenge.
Thek started a bakery that delivers cakes with nasty comments on them directly to internet trolls. Because sometimes, you need to let rude people know you noticed their rudeness.
After all, trolls are trolls because they're seeking attention, right?
The new "bakery and detective agency" takes requests from upstanding citizens of the internet who are fed up with the ease at which trolls are terrible to others on the internet. Each message is copied word-for-word from an internet comment or social media post. If you don't know someone's real-life address, for an extra fee, Thek will track it down so the person can receive the cake at home or at work. Hence, the "detective" part.
It might seem a bit odd to send a totally undeserving mean person a delicious cake, but the message makes it all worth it. Just imagine a troll being all happy to receive a cake, only to read the message and realize it was something nasty they wrote.
So far, Thek has only made a few cakes. Like this one that reads "Crash in a plane," which is obviously a terrible thing to say to someone. But someone did say it, and that's the problem.
And this beautiful piece of cake work…
Thek even made a cake that she shipped to the White House. The quote was taken directly from Donald Trump's recent interview with the Associated Press, in which he compared his "Face the Nation" ratings to the ratings on September 11th.
"'Tiny Hands Special' Troll Cake pulled from Trump's boasting in the 4/21 AP interview," she wrote. "Ships to the White House tomorrow. Hope you're hungry, @realdonaldtrump! #trollcakes"
Sometimes you just gotta give trolls what they deserve, and if that includes dessert, so be it.