Ruby Rose says her look was inspired by Beetlejuice in her latest Instagram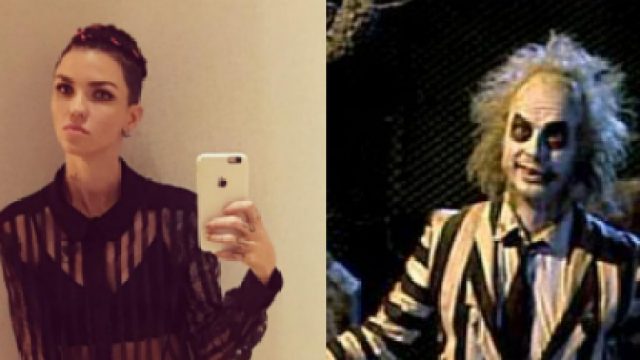 There's no doubt Ruby Rose has impeccable style. From slick sapphire suits to sports bras and bondage pants, the Orange is the New Black star is always killing it in the fashion department. Her latest Instagrammed outfit is a homage to a particularly devious inhabitant of the Netherworld — Beetlejuice.
In a sheer paneled button down blouse, similar to the one Kristen Stewart sported during Cannes, Ruby felt herself catching them Tim Burton vibes. "Feeling this look though it's like Beetlejuice gets fancy," she wrote in the caption. WE APPROVE.
The freelance bio-exorcist might actually be a lowkey style icon of Ruby's — she's sported Beetlejuice-esque outfits in the past, like this black and white striped number.
We're betting she's hoping the sequel pans out like we are.