Ruby Rose admitted she got her big break while working the worst job ever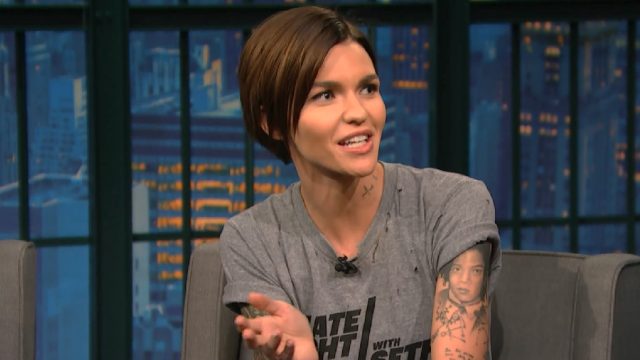 It's almost like something that'd happen in a sitcom. During an appearance on Late Night With Seth Meyers, actress Ruby Rose mentioned she got her MTV Australia gig while working an insufferable customer service shift at Sprint. While Rose made sure not to scorn Sprint too much, she definitely made it obvious that the customers she handled were definitely a bit rude. Also? A little big degrading.
It's tough being in customer service, but we have a feeling that Ruby Rose tried hard to grow from the whole experience.
That said, she was probably super happy when she officially became a VJ, and had the ability to grow her career in entertainment from there.
https://www.youtube.com/watch?v=r2hCcZVzOlE?feature=oembed
We also love the fact that she's doing her interview while wearing a Late Night with Seth Meyers official t-shirt. Supposedly she had a bit of a wardrobe malfunction before going on stage, and made sure to personalize something from the store.
https://www.instagram.com/p/BQRbP7_AsI4
We're sure plenty of them sold right after the show aired, since she looks amazing in it!
But, back to Sprint.
Rose was right in the midst of dealing with a customer who was acting a bit entitled over store credits. She mentioned that this particular customer asked for credit on a monthly basis, and was pretty well known within the company. As she patiently tried to deal with him, he shot insults back. (And if you've ever been in customer service before, you sadly might be able to relate.)
"He said, you're never going to get anywhere, you're just a call center operator. I feel very sorry for you. Enjoy making four dollars an hour," Rose said.
Seconds later, a call came in from MTV saying that she got the job.
Best story ever? Definitely. We all dream of moments like this, but Ruby Rose actually got to live it.
Want to see more Ruby Rose? She'll be in three back-to-back action movies this year, including the very hyped John Wick. We're sure that a few of her past Sprint customers will probably end up buying tickets, and have no clue that they once rubbed elbows with a true Hollywood celebrity.