Teen author Ruby Karp's first book, "Earth Hates Me," is finally here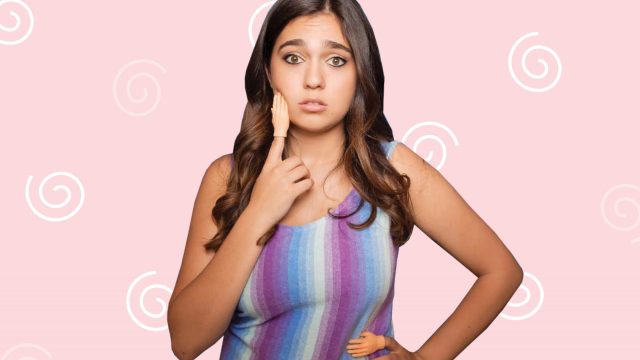 Being a teen author has its perks. For starters, you get to add "author" to your resume before you even graduate from high school. You also get to meet cool, hilarious women like Amy Poehler and Ilana Glazer — at least that's the case for 16-year-old author Ruby Karp.
Karp is a comedian turned author/teen spokesperson extraordinaire who just wrote her first book, Earth Hates Me: True Confessions from a Teenage Girl. She uses humor to share personal stories of the highs and lows of high school — including finding time for homework, tips on navigating breakups, and how to maintain healthy friendships.
The book offers solid, non-cheesy life advice for teens — something other books often fail to do when written by adults who haven't been teenagers for a while.
Earth Hates Me is book for teens, written by a teen, and you're going to love it.
We chatted with Karp about her new book, and she shared her author-y wisdom:
HelloGiggles (HG): How did this book come about? What inspired you to write it?
Ruby Karp (RK): The way the book happened was funny. I was sitting in Spanish class sophomore year and I got an email from a woman named Alex. She had seen my writing and comedy on the internet, and had told me that her husband was a literary agent. She said that there were no books about teenagers that were accurate, because none of them were written by one. She wanted to know if I was up for being that teen.
HG: How would you, personally, describe your book?
RK: I would describe it as a humorous, informative book about what it's really like to be a teenager in today's society, and how social media affects us. But beyond that, it's a book for people who have gone through the basic topics of life. Discovering feminism. Family. Friendships. Heartbreak. Things that we all think about, but forget that others go through it all the time, too.
High school is so weird because we're experiencing everything for the first time, heightening our emotions and thoughts to extremes. Everything can feel like the end of the world. I wanted people to know that I've been there, too, without making them feel like I was trying too hard to make them feel understood.
HG: What do you hope readers take away from your book?
RK: That high school isn't life, but everything that you feel in high school is 100% valid. It's so easy to forget that there's life after high school, but while you're in high school everyone tells you that what you're feeling doesn't matter. But in the moment, EVERYTHING matters.
Young people are entirely capable of making a difference in the world, just as any adult is. It's about finding a community that makes you feel wanted. Being a teenager makes you so conscious of EVERYTHING you do that it gets hard to feel important to someone/something. But I want other teens to know that they really do matter. Their singular voice can make a change. Just because they aren't good at math doesn't mean they aren't smart. Everyone matters, and no matter how cliché and annoying it may be, it still needs to be said. I want everyone to know that they are enough.
Earth Hates Me is out now, and you can buy it here.