These Rubik's Cube cakes are geometric culinary masterpieces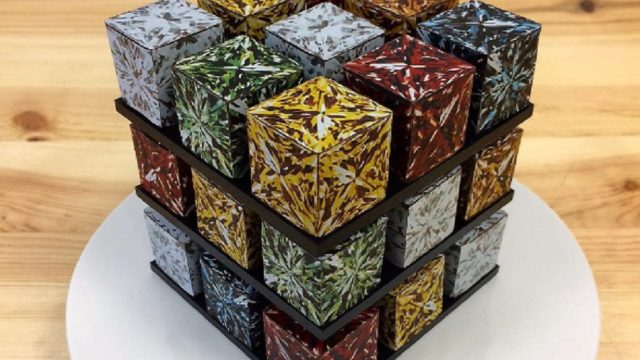 Everyone knows it's not polite to point, stare, or drool, but that combination of bad manners was not to be contained once we laid eyes upon these gorgeous Rubik's Cube cakes created by French pastry chef Cédric Grolet.
We totally agree with Bored Panda's assessment that Grolet's geometric culinary masterpieces are way too pretty to eat. Similar to Ukrainian pastry chef Dinara Kasko's architecture-inspired desserts, the Rubik's cakes are an obvious nod to that classic 3-D puzzle that continues to perplex the masses. We're basically obsessed with anything that reminds us of a Rubik's Cube, so we'll take an infinite order of these cakes.
https://www.instagram.com/p/BR8Ek_QjqGP
Grolet's edible art pieces are exquisitely decorated squares that illustrate why he's earned a reputation as one of the finest pastry chefs in Paris, a skill he's honed since the age of 12 when he first picked up a wooden spoon in the kitchen of his grandparents' hotel. Since then, he's collected numerous awards and accolades for his fresh, unique takes on classic French desserts.
Grolet's famed Rubik's cakes are made to share among four to six people, but we can't imagine slicing into something this beautiful.
https://www.instagram.com/p/BROCYRUjxj6
Here's what slayage looks like in cake form.
https://www.instagram.com/p/BQveaRKDP-c
This Gold Rubik's cake is stealing all the shine.
https://www.instagram.com/p/BQTs9DIgw8W
Behold, the mind-blowing Ruby Rubik's cake.
https://www.instagram.com/p/BPhvvMrgADW
They look just as delicious on the inside.
Both the 2013 and 2016 Rubik's cake = NOM.
https://www.instagram.com/p/BLlo7ASBzkW
All of this taste bud-teasing in one place is *almost* too much to handle, but that won't stop us from devoting the rest of our day to stalking and salivating over Grolet's dessert-filled Instagram.