OMG: The cost of Prince Harry and Meghan Markle's royal wedding made us spit out our coffee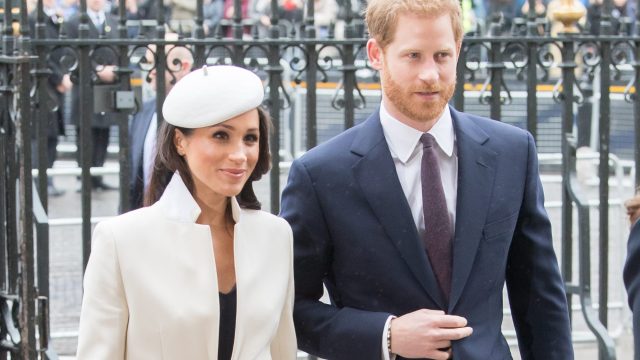 With the royal wedding right around the corner, more details about Prince Harry and Meghan Markle's nuptials are coming out by (what seems like) the minute. And now, we may actually have a solid estimate for the price tag of the event. The estimated royal wedding cost is going to be seriously outrageous, but honestly, did anyone expect anything less?
Of course, it's not like Kensington Palace has released the actual royal wedding cost (or would ever do such a thing).
But wedding site Bridebookhas shared its official estimate, and it's astronomical. According to the site, Markle and Harry's wedding may cost about $2,758,019 in American dollars, which is a lot of dollars. And that's just counting the costs of the wedding itself, not the very, very expensive security team that will need to be present for the event and their honeymoon, and both of those things will add a ton to the end cost of getting these two hitched.
And what's even more ridiculous: This is more than 100 times what the average U.K. couple spends on a wedding.
It's important to keep in mind that Harry and Markle aren't just any couple, and their wedding will have a lot more guests and media attention than your average wedding, so of course the bottom line is going to be different. As Delish pointed out, Kensington Palace will be paying for the wedding, so we're sure Markle's family is pretty relieved about that.
About 800 guests are expected at the ceremony and formal reception, along with a private reception later in the evening for about 600 people. Plus, Markle and Harry have invited more than 2,000 members of the public to join in on the festivities, as well (and yes, we are incredibly jealous of those lucky people).
Here's the site's breakdown of the costs:
The wedding dress – $420,000 (£300,000)
Flowers – $155,000 (£110,000)
Photography and videography– $24,000 (£17,000)
Cake – $70,000 (£50,000)
Stationery – $28,000 (£20,000)
Music – $420,000 (£300,000)
Trumpets – $127,000 (£90,000)
Decoration and production – $183,000 (£130,000)
Wedding rings – $8,500 (£6,000)
Bridesmaid outfits – $7,500 (£5,000)
Flower girl and page boy outfits – $2,400 (£1,698)
Church fees – $250 (£175)
Groomswear – $11,000 (£8,000)
Hair and makeup – $14,000 (£10,000)
Entertainment – $21,000 (£55,000)
Wedding favors – $4,000 (£3,000)
Toilets for guests – $49,000 (£35,000)
Feeling overwhelmed yet? You're not the only one. We can't wait to see Markle and Harry's wedding on May 19th, but we're really glad we never have to worry about footing the bill for a wedding like that one. As if getting married isn't already stressful enough.