Oh yes, Meghan Marke's royal wedding dress looks a lot like the one in The Wedding Planner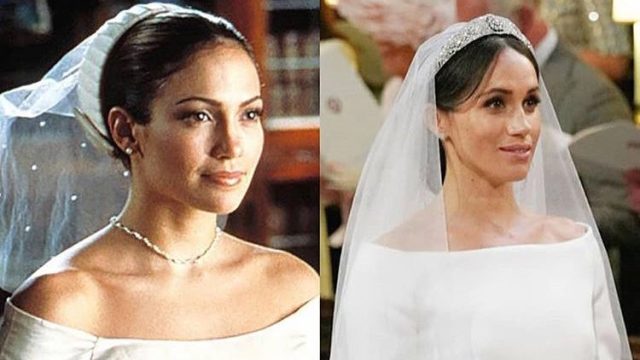 At the 2018 royal wedding, Meghan Markle looked like a princess — or better still, a duchess, which she literally is now. From veil to train, her Givenchy haute couture look was perfect. But is it possible that Markle's dress was inspired by the iconic Jennifer Lopez film The Wedding Planner? It really looks that way. Eagle-eyed fans instantly spotted the similarities between Markle's dress and J.Lo's dress at the end of The Wedding Planner, and like…we totally see it.
At the end of the rom-com classic — whoa, spoiler alert for the 2001 movie!  — Jennifer Lopez's character finally walks down the aisle to wed the love of her life. She rocks a gorgeous, conservative wedding dress, with a boatneck, longer sleeves, and a delicate veil to complete the look. Markle's dress was similarly understated, with a boatneck, longer sleeves, and an elegant veil — no, for real. Lots of sparkling white, few patterns; the looks are almost identical. Once you see the royal wedding dress side-by-side with one from The Wedding Planner, you won't be able to unsee it. It's that perfect.
It just so happens that J. Lo did it first. According to ET, the Duchess of Sussex's "ideal" look was one akin to Carolyn Bessette-Kennedy's Narciso Rodriguez gown from her 1996 nuptials to John F. Kennedy Jr. But why just take inspiration from American royalty when you can also spring for Wedding Planner glam? Take a look at what fans had to say about the similarities:
This fan had some all-caps love for it.
https://twitter.com/udfredirect/status/998029293782417408
Okay, but maybe they just got a few good photos of it. Were they really that alike?
The side-by-side really does throw it into perspective. But wait, there's more…
Okay, there's no way this was a coincidence. Even if it is, there had to be some subconscious Wedding Planner vibes happening when designer Clare Waight Keller first drew up the look. Of course, they both looked totally gorgeous. In the end, the inspiration behind Markle's dress may remain a mystery, but we (and the internet) can always dream.