Rowan Blanchard and Storm Reid both did school book reports on "A Wrinkle in Time"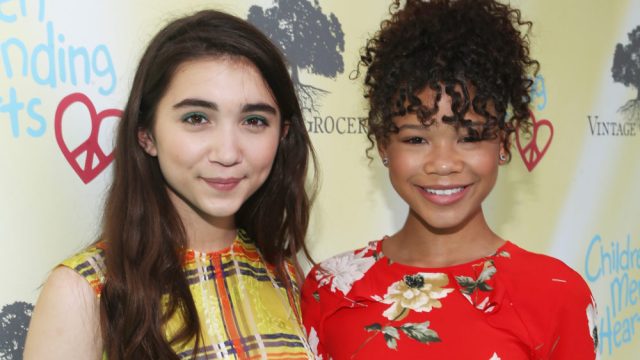 Imagine reading a book in elementary school. Now flash-forward 10 years and you actually get to live out that book — because you're starring in the movie adaptation of it.
That's not something many of us have encountered in our lifetime, or ever will. But it's exactly what happened to both Storm Reid and Rowan Blanchard. These two young, brilliant actresses read A Wrinkle in Time during their formative years for school, did book reports on it, and probably never thought they'd never ever encounter Meg Murry IRL. Well, in Reid's case, she's actually now *playing* Meg Murry; as for Blanchard, she's a brand new character in the story, Veronica, who was inserted into the film to give Meg a desperately-needed female friend.
As Blanchard explained to HelloGiggles during a press day for A Wrinkle in Time:
"Yeah, I actually read the book in the third grade and I did a book report on it. [Somewhere] there's a photo of me reading it, [but] my character is not in the book, which I'm sure you realize while watching it."'
Reid, meanwhile, couldn't help but brag about getting a well deserved "A" on her Wrinkle in Time book report. She also happened to fall in love with the character of Meg while tearing through the pages:
"I actually had to read the book in sixth grade for a book report, so I did a big essay, and I got an 'A' on it, thankfully," she told HelloGiggles. "I really loved Meg's character, and I thought she was so confusing but so great at the same time. It was just amazing to see that she didn't see how beautiful and smart and great she was, but everybody else did see that. To be able to step in her shoes and actually play her and tell her story was really great, so I'm glad I did read the book [before the movie]."
Whoever would have thought getting an A on a sixth grade book report would lead to starring in an Ava DuVernay fantasy blockbuster?? Always remember to do the required school reading, kids.
A Wrinkle in Time tessers into theaters on March 9th.