15 of the spookiest Halloween-inspired nail art on Instagram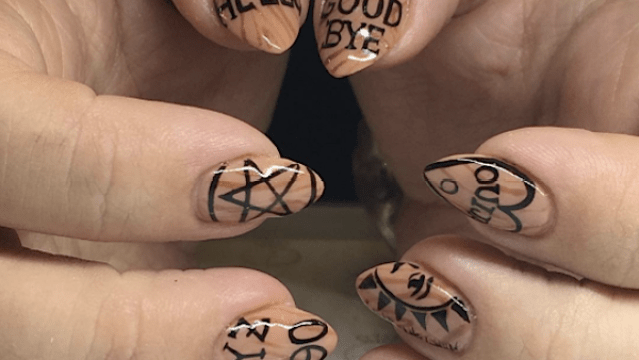 As Halloween draws closer and the ghosts and skeletons of our costumes past escape their respective closets, it's always fun to see some of the impressively creative DIY Halloween costumes, and even more fascinating to see the spooky nail art! Over the years, there's been everything from Jack Skellington to candy corn nails on the Internet, and the beautiful finds of Halloween-inspired nail art on Instagram this year have shown themselves to be just as stunning, intricate, and spine-tingling (and back-scratching)!
Here are some of our favorite Instagram nail artists, artistically murdering it with their Halloween claws.
These Haunted Graveyard Nails
She even gives you the full tutorial so you can achieve the look yourself!
These Terrifying Ouija Board Nails
https://www.instagram.com/p/BL4kq4EhaMf
These look convincing enough to summon the ghost of your disapproving grandma.
These Classic Candy Corn Nails
These are definitely cute enough to eat, but will they poison you?!
These Gothic Webbed Nails
These are just witchy enough they could claw their way into a more daily goth look, although the maintenance itself would require pounds of patience and some black magic.
These Bejeweled Eyeball Nails
Somehow these festive nails managed to combine bloodshot eyeballs, diamonds and bows into the creepiest trio of aesthetics.
These Crisp Leafy Nails
What they lack in creep factor, they make up for in warmth.
These Ornate Pumpkin Nails
https://www.instagram.com/p/BLPD-vUAd1e
It's difficult to decide which is more impressive, the shimmery green branches or the three-dimensional pumpkin?!
These Electric Blue Haunted House Nails
It's uncommon to see nail artistry that simultaneously incorporates glitter, bats, and a haunted house, but now that we've seen it, we want more.
These Pristine Striped Jack Skellington Nails
The detailing is drool-worthy.
These Bloody Slasher Nails
The tiny bloody handprints are 100% nightmare fuel.
These Wicked Witch Nails
You know it's good nail art when you're jealous of the witch's outfit.
The manic and distorted imagery is peak creepy regardless of how familiar you are with the painting.
These Candy Corn Kitty Nails
Watching the cat move through all five nails is like a nail art flip-book!
These Lime Green Disney Nails
Mickey and Minnie Mouse appear to have been SLIMED by Nickelodeon in these painstakingly gorgeous nails.
These Glam Halloween Nails
These are just plain cute for anytime, but the gold realness screams Halloween queen.
Beware, the most hair-raising creature lurking in the dark streets this Halloween just might be hiding on a loved one's nails!