Rotten Tomatoes just made a major change to encourage diversity and inclusion among its critics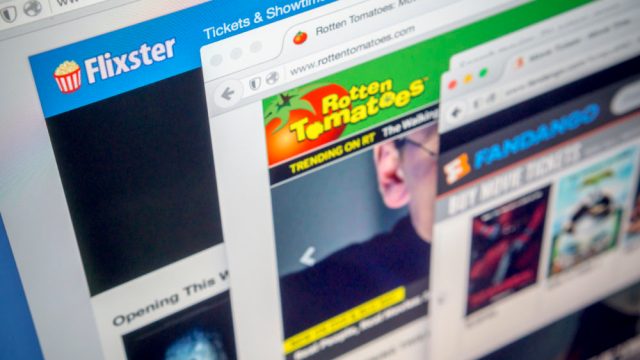 It's not a secret that most movie critics are white men, and that movie reviews tend to reflect a very specific (and narrow) perspective. But Rotten Tomatoes is trying to change that. The movie review aggregate has officially changed its criteria for critics in a move intended to better represent the voices of women and people of color.
The New York Times reported that on Tuesday, August 28th, Rotten Tomatoes broadened its definition of a critic to include bloggers, YouTubers, and podcasters. The site has eliminated a minimum length of employment for radio and TV critics and has also loosened restrictions on online reviewers. While bloggers previously needed at least 100 reviews in two years on a site pulling in 500,000 unique monthly views or more, now the only criteria is "consistent output for a minimum of two years." Podcasters can also apply to have their reviews factored into the Tomatometer.
Thanks to the new criteria, 200 new critics have already been added to the site's pool—many of them women and people of color. In an editorial posted to the site, Rotten Tomatoes editor-in-chief Joel Meares wrote that the criteria had been updated to reflect the changing landscape of arts journalism, as well as to promote diversity.
"In revamping our Critics Criteria, we sought to bring the criteria into better alignment with the way media works today, to promote the inclusion of more voices that reflect the varied groups of people who consume entertainment, and to maintain the high standards we've always set for inclusion in the group of Tomatometer-approved critics," Meares wrote.
The lack of diversity among critics has a real impact—especially on female-led films. A July study from the Center for the Study of Women in Television and Film at San Diego State University found that men are less likely to give positive reviews to female-led films than women are. Meanwhile, a June report from the University of Southern California's Annenberg Inclusion Initiative found that only 18% of the critics who reviewed 2017's top 100 movies were people of color. As actress Brie Larson pointed out, these findings mean that, often, a white man is reviewing a movie that "wasn't made for him."
Rotten Tomatoes' new efforts to include a more diverse group of critics is long overdue, but we're glad the change has finally been made. And while these new rules might not change film criticism overnight, we're hopeful that they'll allow new, fresh perspectives to be heard.