Rosie O'Donnell says her "anxiety takes over" when she makes her intense Donald Trump art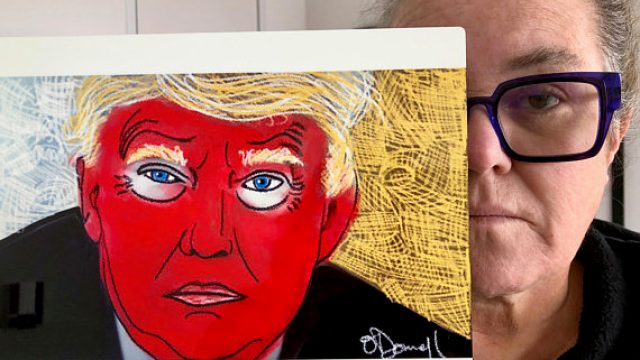 It's no secret that Rosie O'Donnell and Donald Trump don't like each other. Plenty of people dislike Trump (Joe Biden sure as hell does), but O'Donnell feels a special kind of anger toward the president. Their feud came to a head during an August 2015 Fox News interview during which Megyn Kelly said to Trump, "You've called women you don't like 'fat pigs, dogs, slobs, and disgusting animals,'" to which he responded, "Only Rosie O'Donnell." What started as a Twitter feud As far as O'Donnell was concerned, it was off to the races, but what started as a public Twitter has now morphed into something new: art.
O'Donnell began making art inspired by her rage at the president a few months ago and decided to sell the pieces on an Etsy account. O'Donnell paints the portraits with acrylic and then turns them into digital images with text using an iPad Pro and prints them on aluminum sheets. All the pieces go for under $200, and O'Donnell matches all proceeds and donates the money to charities she says "fight the Trump regime." For her, though, this isn't about the money, this art is about her own mental sanity.
"I'm doing it for my OCD [obsessive-compulsive disorder] and my anxiety, because I feel so powerless and helpless, she told The Daily Beast. "I'm not trying to raise money specifically. I'm trying to, like, get it out of me. It's not like I set out with 'I'm gonna ruin him by making $100,000!' I didn't think that...I can't help what comes out of me. I don't sit there at home and think, 'How can I get that bastard? Let me paint his picture!' My anxiety takes over.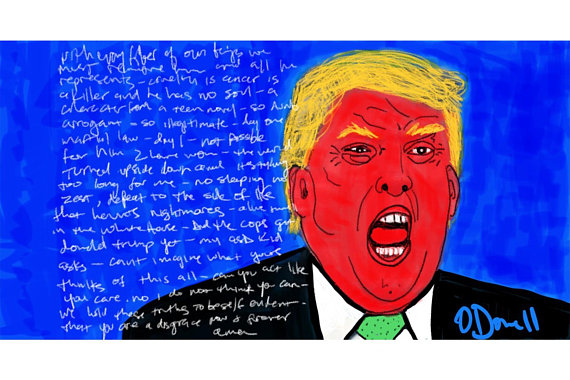 O'Donnell says that running her new Etsy shop is great, "because then I'm not watching MSNBC and screaming at the TV."
If you like what you see, check out her Etsy shop here.