4 other working-class sitcoms to watch if you're now obsessed with "Roseanne"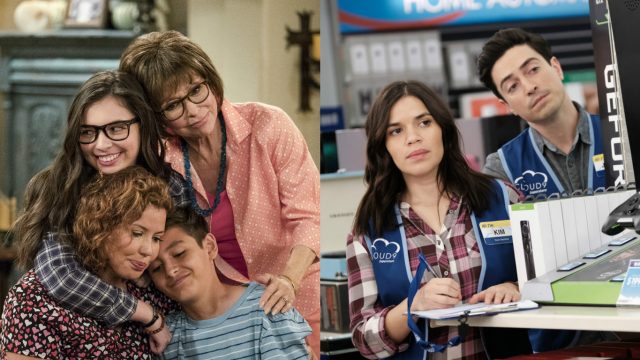 The season premiere of ABC's new Roseanne revival revival completely shattered ratings expectations with over 18 million viewers. Headlines have credited the show's inclusion of pro-Trump characters with its success, but the immediate popularity of Roseanne points to something much different than a MAGA state of mind: Americans want to see more working class families on TV.
There has always been an audience for shows about blue-collar America. In the 1970s, Norman Lear's All in the Family, a groundbreaking sitcom about a working-class bigot and his family that put issues like racism, sexual assault, abortion, and religion front and center, was America's No. 1 sitcom for five years in a row. By the 1980s and throughout the 1990s, shows like Roseanne and Married… with Children were immensely popular with viewers who saw their economic instability come to life on the screen. Even in the early 2000s, sitcoms like Malcolm in the Middle, Everybody Hates Chris, and Raising Hope gave middle America something they were hungry for: Shows that represented their families, their economic status, and their daily struggle to get by in a world that seems to be actively working against them.
Somewhere along the way, though, sitcoms made a shift in their portrayal of the modern American family. Instead of showing people who lived paycheck-to-paycheck by working blue-collar jobs in factories, restaurants, and retail stores, they began featuring families that either had obvious wealth, or at least didn't have to confront issues of financial instability. In shows from Modern Family to The Big Bang Theory, Will & Grace to American Housewife, money is either obviously in abundance or not discussed at all. These "average" individuals and families can afford big houses or expensive apartments, cars (for parents and children), lavish vacations, and a seemingly endless supply of new clothes and accessories. When a character has to miss work as part of their story's narrative, they don't worry about losing money or their job; it's assumed both are safe. When they make a career change, little thought is given to what that means to their mortgage payments or their ability to buy their kids new sneakers. When an unexpected expense comes up, like a car repair or house remodel, money rarely enters the conversation. For so many lower- and middle-class viewers, the sitcom has moved from relatable shows about their families to fantasies they can never live our in real life.
With its reboot, Roseanne has stepped in to help fill the working-class shaped hole in primetime television. The reboot has not only successfully tapped into viewers' weak spot for nostalgia but their desire to see blue-collar people, and blue-collar problems, on TV. But despite the new season's attempt at diversity and inclusion — Roseanne's granddaughter is biracial, and her grandson prefers to wear girls' clothing — this rebooted sitcom still only offers the narrow point of view of an explicitly white working class, one that inaccurately represents modern-day America.
If you're looking for other sitcoms that capture the complexity of America's working poor and middle-class families, try one of these other great shows that are on TV today.
The Middle
Now in its last season, The Middle is ABC's beloved sitcom about the Hecks, a middle-class family in Indiana. For nine seasons, it has made viewers laugh and cry along with a relatable and unbelievably lovable family whose daily struggles to balance work, life, and family capture for so many what it is like to get by in modern America. Created by Eileen Heisler and DeAnn Heline, who both worked as writers on the original Roseanne, The Middle is a truly charming show that will be sorely missed after its series finale later this year.
One Day at a Time
Recently renewed for a third season, Netflix's reboot of the classic '70s and '80s sitcom One Day at a Time should be on everyone's watch list. Smart and funny and oh so heartwarming, this show follows Penelope Alvarez, a Cuban American retired veteran with PTSD who is navigating life as a single working mom responsible for raising two kids with the help of her often over-the-top mother, Lydia. Like any good sitcom, the show tackles important issues ranging from sexism and homophobia to racism and financial insecurity, but like the best sitcoms, it never makes these issues feel tokenized. Rather, One Day at a Time focuses on authenticity and heart, and it shows in every episode.
Shameless
Entering its ninth season this year, Showtime's longest-running and highest-rated show earned those accolades for a reason. Gritty and twisted and sometimes too real to watch, Shameless follows the complicated and often painful lives of the Gallaghers, a poor family barely getting by on the South Side of Chicago. What sets it apart from other shows about the working class is its unapologetic portrayal of very real issues like alcoholism, drug abuse, and mental illness, as well as its ability to capture the feeling of otherness so many poor Americans feel in a very real way. If you haven't jumped on the Shameless bandwagon, now is your chance.
Superstore
It might not take place in the home, but NBC's Superstore brilliantly portrays everyday life in a blue-collar workplace. Set in a fictional Walmart-style big box store in Missouri, this hilarious and heartfelt show follows the lives of the retailer's employees, a diverse group of Middle Americans struggling with everything from teen pregnancy and health insurance to racism and mental health. While it does embrace what makes workplace comedies so entertaining — outrageous bosses, Dwight Schrute-level loyal employees, will-they-won't-they romances, and coworker rivalry — it offers so much more than punchlines. Superstore challenges the idea that working-class Americans are predominately white and conservative, and presents the reality that Middle America is incredibly diverse.