The Roseanne spinoff officially has a premiere date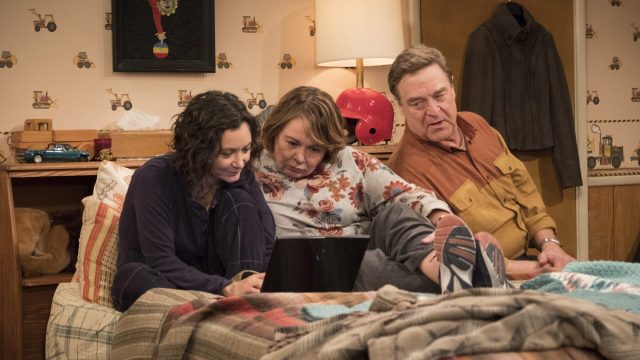 Despite top ratings, ABC pulled the plug on the highly successful Roseanne reboot on May 29th. The show's cancellation came in direct response to a racist tweet from star and creator, Roseanne Barr. On June 21st, the network announced that a Roseanne spinoff titled The Conners is officially a go — and Barr will not be involved.
ABC announced that The Conners will debut on Tuesday, October 16th at 8 p.m ET. It will be followed by the brand new series The Kids Are Alright, black-ish, and the second season of Splitting Up Together. Like Roseanne, The Conners will be a multi-cam sitcom that follows the Conner family, who, "after a sudden turn of events, are forced to face the daily struggles of life in Lanford in a way they never have before," the site reports.
The new series will star Barr's now-former co-stars, John Goodman, Laurie Metcalf, Sara Gilbert, Lecy Goranson, and Michael Fishman. Tom Werner, who executive produced both the original and rebooted Roseanne series, has also signed on to the project. He and Barr have agreed that Werner Entertainment will produce without any creative or financial participation from Barr.
However, Barr will retain the rights to the character of Roseanne Conner.
ABC notes that The Conners will tackle topics pertinent to modern working-class families like financial struggle, parenting issues, unplanned pregnancy, dating, and in-laws.
In a joint statement, Goodman, Metcalf, Gilbert, Goranson, and Fishman said, "We all came back last season because we wanted to tell stories about the challenges facing a working-class family today. We are so happy to have the opportunity to return with the cast and crew to continue to share those stories through love and laughter.
Barr said in a recent statement, "I regret the circumstances that have caused me to be removed from Roseanne. I agreed to the settlement in order that 200 jobs of beloved cast and crew could be saved, and I wish the best for everyone involved."
Werner followed up by saying, "We are grateful to have reached this agreement to keep our team working as we continue to explore stories of the Conner family."
Keep your eyes peeled for the spinoff this fall, which will take Roseanne's place on Tuesdays at 8 p.m. ET on ABC.