"Roseanne" stars Sara Gilbert and Johnny Galecki apparently named their television son together via text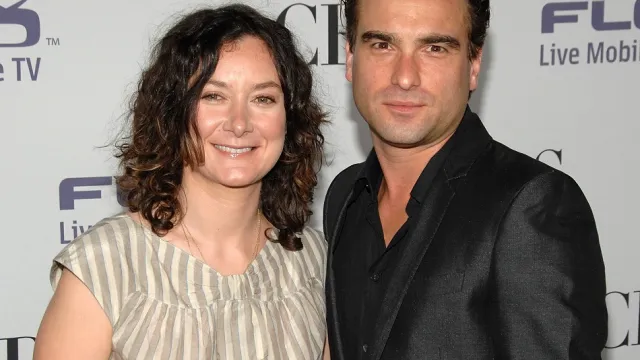 Our hearts are officially melting over this revival-related detail. Sara Gilbert — who plays Darlene Conner in the Roseanne reboot (and the OG Roseanne, of course!) — revealed that she was responsible for naming her fictional son on the show. Even sweeter, her one-time TV husband, Johnny Galecki, also had input on what that name would be.
While Galecki is best known these days for The Big Bang Theory, he was a series regular on Roseanne from Season 4 until the final ninth season. He played David Healy, whom Darlene married in Season 8.
During the planning process for the reboot, Gilbert, who's also serving as a producer, had creative control over what to name her character's second child.  So naturally, she'd texted "husband" Galecki for his input.
"Back in June, for Roseanne — I have a son on the show — and I had to name my son. So I thought, 'Oh, I've got to reach out to Johnny Galecki because this is our kid together.' So I texted him, 'What do you think we named our baby boy?' and then I said, 'Oh, maybe Mark,' because Mark was played by Glenn Quinn, he was his brother on his show who passed away," Gilbert said on her other show, The Talk.
Quinn, who played David's older brother on the show,  passed away from an overdose in 2002. During the reboot, the show didn't recast the actor. Instead, they acknowledged the death of his character in the show — and gave him a special tribute through his onscreen nephew.
https://twitter.com/udfredirect/status/983873027212562432
We think that naming Darlene and David's son Mark was the perfect gesture, and we love that the real-life actors had a say in it. Galecki and Gilbert will both be featured in tonight's April 17th episode of Roseanne airing on ABC at 8 p.m. ET.