The "Roseanne" reboot opening credits are here, and we're overcome with equal parts excitement and nostalgia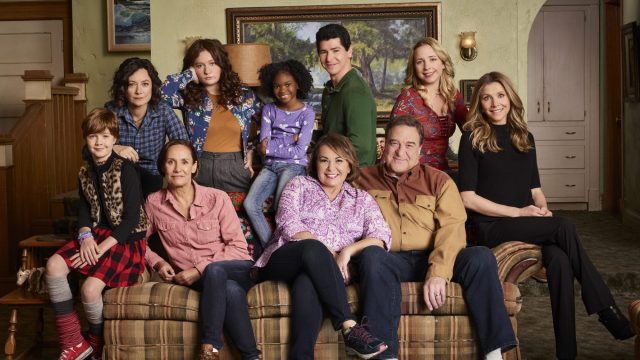 Okay, we're officially having some *major* flashbacks. ABC has released the opening credits for the upcoming Roseanne reboot, and they're seriously amazing.
The award-winning 90s sitcom Roseanne, known for its realistic and heartfelt portrayal of a working-class family living in Lanford, Illinois, will be returning to television on Tuesday, March 27th, and we can barely contain our excitement. The newly released opening credits start with Conner family matriarch Roseanne sitting at her kitchen table, and it uses the same kind of rotating shot that was featured in the original series. TBH, it's a total blast from the past. We love seeing the same familiar characters — and some new faces — getting ready for a Conner family meal.
Season 10 will feature the original cast. That includes Roseanne Barr, Laurie Metcalf (Jackie), Lecy Goranson (Becky), Sara Gilbert (Darlene) and Michael Fishman (D.J.). Seriously, the TV gods have blessed us with this one, and we are undeserving. Even better? John Goodman is returning to play the lovable Dan Conner (yes, he's alive!), and we can't wait to see the show pick up more than 20 (!!!) years after it went off the air.
Plus, ABC promises that the Roseanne reboot will definitely live up to its legacy.
"We had a lot of conversations with [executive producer] Tom Werner when he first came in to talk about doing the show, ABC Entertainment president Channing Dungey told the press in August 2017. "We've now heard the broad strokes of the creative for these eight episodes, and feel confident that it's going to return to the show that everyone knew and loved.
We couldn't be more thrilled to hear that!
Watch the new opening credits for the Roseanne reboot here:
https://www.youtube.com/watch?v=-k4agwNkDkQ?feature=oembed
The Roseanne reboot premieres at 8 p.m. EST on Tuesday, March 27th, on ABC. Will you be watching?