Remember when Joseph Gordon-Levitt appeared in the OG "Roseanne"? We do, and we'd give anything to see him in the revival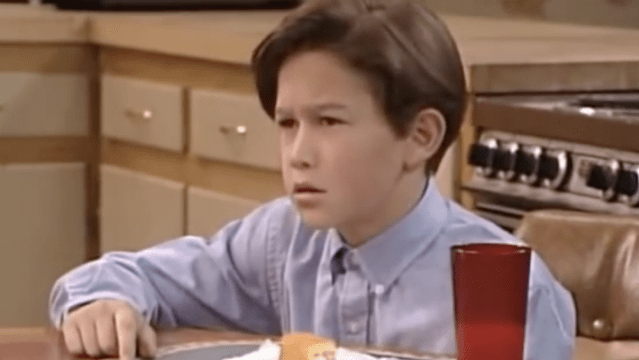 In the wake of Roseanne's grand return to television for a revival season, the cast and fans of the hit sitcom have been revisiting the best (and worst) moments of the series' original run. While Roseanne has lived on in syndication since going off the air in 1997, the complete original series is streaming on Amazon, meaning we can now fully reminisce with the Conners in all their '90s glory.
Revisiting Roseanne has reminded us all why we fell in love with the series in the first place, and it's also reminded us just how many A-listers got their start on the beloved comedy. Sure, we all remember George Clooney's tenure as Booker Brooks during the first season and Sandra Bernhard's recurring role as Nancy Bartlett Thomas, but throughout the show's nine-season run, a slew of young actors popped up in various guest roles, including Tobey Maguire, Heather Matarazzo, and even a *very* young Joseph Gordon-Levitt.
While most '90s kids were probably introduced to Gordon-Levitt through Angels in the Outfield or 3rd Rock from the Sun, the actor also appeared in a handful of Roseanne episodes.
From 1993 to 1995, the young actor sporadically appeared on the hit sitcom as George, D.J.'s painfully boring friend. He's first introduced as a new neighbor in Season 5, explaining in great detail his various moves — much to the chagrin of young D.J.
Prone to explaining himself through confused, long-winded monologues, George quickly becomes the bane of the entire Conner family's existence.
https://www.youtube.com/watch?v=gzQG22tsXq4?feature=oembed
Sorry, JGL, even your adorableness is no match for George's well meaning, never-ending lectures on coins.
While George hasn't been seen or heard from again since Season 7's "Single Married Female," we're keeping our fingers crossed that maybe, just maybe, the Roseanne revival will offer an update on the adorable former neighbor. And while Gordon-Levitt may be too busy to pop up this season, there's (hopefully) always next season!