Here's the reason the Conners voted for Trump in the "Roseanne" revival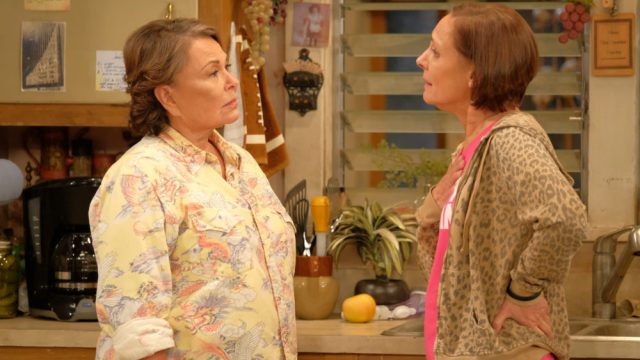 As you know, ABC is reviving Roseanne, and that means Roseanne Barr is back in action! At the Television Critics' Association winter press tour, Barr dropped a new nugget of information about the Roseanne revival — that the Conners voted for Trump. That's not just part of the show, either. It actually kicks off the new series.
When the new series opens, Roseanne and Jackie will be fighting. The Conners voted for Trump, it will turn out, but Jackie did not, and is, instead, Team Hillary Clinton. Barr and John Goodman's characters will be Trump supporters in the new series. This was in no way meant to be controversial, per Barr. In fact, it was about inclusivity:
"In The Rosanne Show, I've always tried to have it be a true reflection of the society we live in. I feel like half the people voted for Trump and half didn't, so it's just realistic."
"And, in fact, it was working-class people who elected Trump, so I felt like that was very real and something that needed to be discussed and especially about polarization in the family and people actually hating other people for the way they voted, which I feel is not American."
She felt that the Conners voting for Trump would be an authentic reflection of the working class, which she always pushed to represent during the original run of Roseanne.
Her collaborators added that the Conners voting for Trump will add an emotional component to the series.
"It was really about getting dialogue going in an honest way," showrunner Bruce Helford said. "There's no agenda on anybody's part." Actress Sara Gilbert added, "It's a great opportunity to have a family divided by politics but is still filled with love. What a great thing to bring into this country right now."
The Roseanne revival airs on ABC on Tuesday, March 27th.