The Roseanne cast is not holding back on Twitter — here's what they had to say following the show's cancellation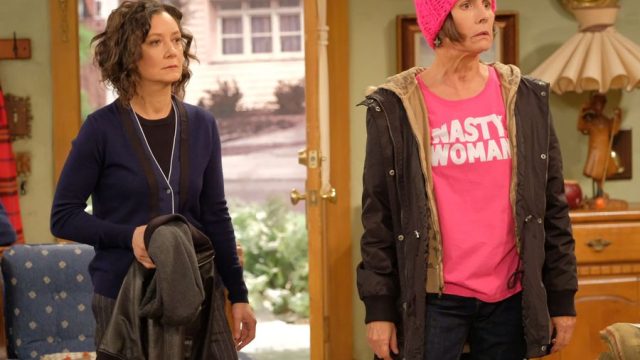 Despite renewing Roseanne for an 11th season earlier this year, ABC officially pulled the plug on the series following yet another round of racist comments from its star and namesake, Roseanne Barr.
Earlier Tuesday morning, the comedian made disparaging and racist remarks about former White House advisor to President Obama, Valerie Jarrett, comparing her to an ape. In a since deleted tweet, Barr wrote, "Muslim brotherhood & planet of the apes had a baby=vj." The actress also tweeted conspiracy theories about Chelsea Clinton and George Soros this morning.
The comment about Jarrett, the latest in a long line of reprehensible tweets — which are often racist and promoting alt-right conspiracy theories — prompted swift backlash. Barr later apologized for the tweet, attempting to play it off as a joke before announcing a Twitter hiatus.
Celebrities, political commentators, and activists began immediately tweeting out their disgust for Barr, also criticizing ABC's continued silence and called for a boycott of the series. Comedian and actress, Wanda Sykes, who served as a consulting producer on the revival season of the series, tweeted she wouldn't be returning to the show going forward.
However, in a short but pointed statement, president of ABC Entertainment Channing Dungey announced that the series would no longer be returning at all.
Yes, that's right: ABC canceled Roseanne.
Dungey's statement was short and to the point: "Roseanne's Twitter statement is abhorrent, repugnant and inconsistent with our values, and we have decided to cancel her show."
Tweeting out Dungey's statement, Disney chairman and CEO Robert Iger, who oversees ABC as a property of Disney, added, "There was only one thing to do here, and that was the right thing."
Prior to ABC's announcement of Roseanne's cancellation, Sara Gilbert, who starred as Darlene Conner-Healy and served as an executive producer on the series, called Barr's comment's "abhorrent," adding that she was "disappointed" in her co-star. Michael Fishman, who played D.J. on the series, called Barr's words "reprehensible and intolerable." Emma Kenney, who played Roseanne's granddaughter Harris on the series, tweeted her disappointment in Barr's comments, adding that she was on the phone with her manager looking to quit the series when ABC announced its decision.
Here's what the Roseanne cast and crew are saying about the show's cancellation due to Barr's racist tweets:
Sara Gilbert (Darlene Conner-Healy)
Alicia Goranson (Becky Conner)
While her account is protected, Deadline.com reported that on Tuesday, May 29th, Goranson tweeted, "[I'm] devastated by the cancellation of Roseanne. But more devastating are the effects of hate speech and racism on individuals and society. In the spirit of our amazing crew, spread love, not hate"
Emma Kenney (Harris Conner-Healy)
Showrunner Bruce Helford
"On behalf of all the writers and producers, we worked incredibly hard to create an amazing show," Helford said in a statement through United Talent obtained by The Hollywood Reporter. "I was personally horrified and saddened by the comments and in no way do they reflect the values of the people who worked so hard to make this the iconic show that it is."
Michael Fishman (D.J. Conner)
And most recently, in a video obtained by ET.com on Wednesday, May 30th, John Goodman, who played Roseanne's husband, Dan Conner, said he'd "rather say nothing than to cause more trouble."
According to The Hollywood Reporter, ABC has also suspended its Emmys campaign for the series, canceling a FYC event, which was set to take place on Sunday.