The Rose Parade featured a beautiful float honoring Pulse Nightclub victims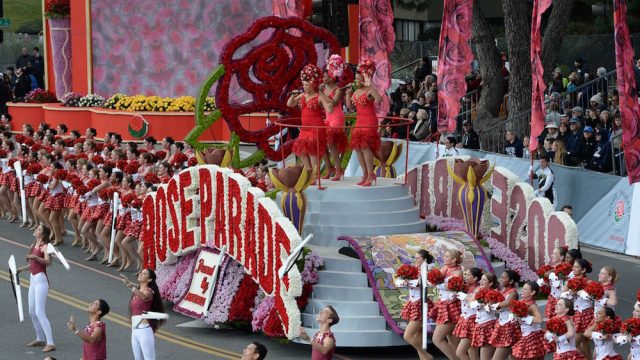 This morning, just outside of Los Angeles, the 128th annual Tournament of Roses Parade marched through Pasadena. The parade included brightly colored floats made of flowers, marching bands, and other spectacles. And this year's Rose Parade featured a float to honor the Pulse Nightclub victims.
As we all remember too well, on June 12th, 2016, a man attacked Pulse, a gay nightclub in Orlando, Florida. The mass shooting killed 49 people and wounded 53 others. The attack was deemed a hate crime and an act of violence against LGBT people. While no one can change the tragedy that happened at Pulse, we are deeply touched by the beautiful memorial. The float makes a statement of support and solidarity with the LGBT community and those traumatized by the shootings.
This float in the Rose Parade honored the 49 victims of the Pulse shooting with 49 white stars.
The float is called "To Honor & Remember Orlando." The 49 white stars lie on a bed of red roses, and the float lit up the parade with its beautiful double rainbow design and white dove floating overhead.
Additionally, according to KTLA, the tree with purple flowers at the back of the float features messages of condolence for the victims and their families. The float is also filled with 5,000 memorial notes and messages of comfort that were collected from around the world.
The AIDS Healthcare Foundation (AHF) in Los Angeles commissioned the float as a remembrance of the beautiful lives lost to that tragic event. The AHF provides HIV/AIDS medical care in the U.S and throughout the world.
The spokesman for the foundation, Ged Kenslea told ABC News, "This is very important to speak out against the stigma and homophobia and discrimination that gave rise or contributed to this terrible tragedy."
The float also released 49 white doves into the air, in commemoration of those lost in the shooting.
Three survivors of the shooting, as well as Pulse co-owner Barbara Poma, and Orlando Commissioner Patty Sheehan, rode on the float during the Rose Parade.
The beautiful message of remembrance and hope on this float brings tears to our eyes as we move into 2017.
Although we are saddened every time we remember the horrific injustice that happened at Pulse that night, we know that it is so important to never forget. The Rose Parade's support for and solidarity with the LGBT community inspires us. With those lovely flowers and the float's powerful design, AHF found beauty and hope in the face of this terrible tragedy.
We think it's a beautiful way to start 2017. And a powerful reminder to never stop fighting for love and equality.