Rosé now comes in a 40-ounce bottle — here's where you can buy it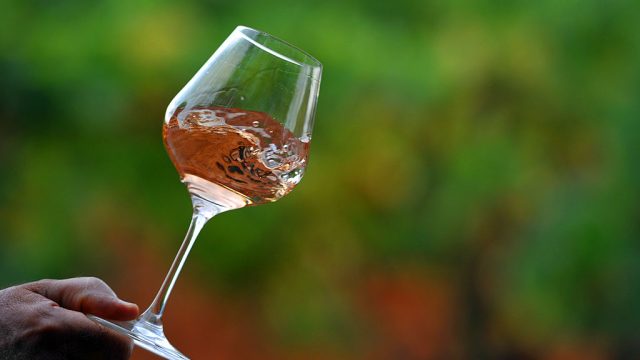 As we speak, the weekend is on our doorstep impatiently tapping its foot for us to wrap up things at work. We hadn't decided whether we wanted to spend our downtime doing something fancy or more down-to-earth, but now that rosé wine comes in a 40-ounce bottle, we don't have to choose.
While some will likely turn their noses up at sipping wine out of a traditional beer bottle, a true wine lover at heart shouldn't be peeved by it. Fine, so guzzling from this basic container will make you appear about as cultured as an animal drinking wine, but there's no way we're gonna allow a tiny bottle downgrade to interrupt our ongoing love affair with vino.
According to Cosmo, this boozy drink is manufactured by a company named — wait for it — Forty Ounce Wines, which is more posh than it sounds. Before you envision wine sitting on dusty shelves next to endless cases of malt liquor, it's a bit more, erm, elevated than that. French winemaker Julien Braud produces the rosé and muscadet Forty Ounce Wines in the Loire Valley, so that should satisfy your inner snob.
https://www.instagram.com/p/BSCmTCaA7-l
https://www.instagram.com/p/BIJGeOpBWJ0
At $16 a bottle, Forty Ounce Wines give you plenty of bang for your buck. For now, though, the wine is only available in California, Colorado, New Jersey, New York, and Pennsylvania.
Hopefully, if you show up to brunch with a bottle of Forty Ounce rosé, no one will care what type of container they're pouring it out of, as long as it's still guzzle-worthy.