Rose McGowan is suing Harvey Weinstein for conspiring to discredit her rape allegation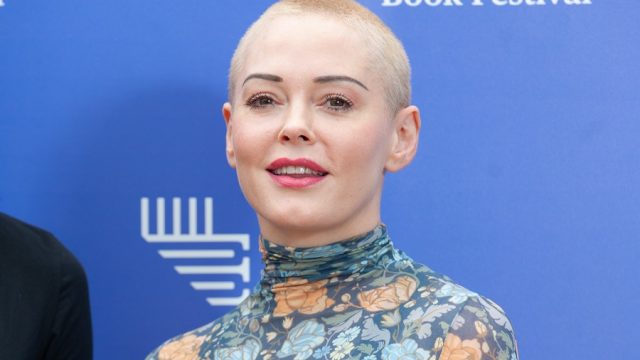 This post discusses rape.
Actress Rose McGowan is suing Harvey Weinstein and his former lawyers for racketeering two years after McGowan went public about being raped by Weinstein at the start of her Hollywood career. According to Vulture, which obtained the filings, McGowan's lawsuit alleges that Weinstein conspired with his two attorneys, Lisa Bloom and David Boies, along with spy agency Black Cube, to "suppress and discredit" McGowan's initial claim.
"This case is about a diabolical and illegal effort by one of America's most powerful men and his representatives to silence sexual-assault victims. And it is about the courageous women and journalists who persisted to reveal the truth," the suit states, per Vulture. "McGowan has suffered tremendously from the defendant's conspiracy and lies. Her book sales suffered; her expenses mounted; her job opportunities vanished; and her emotional health cratered. She has experienced trauma and depression from the defendants' actions, and the deep betrayal will have life-long effects.
In September, The New York Times received excerpts from the tell-all book She Said, written by journalists Jodi Kantor and Megan Twohey, who broke the Weinstein story in 2017. These excerpts revealed that Bloom was, in fact, hired by Weinstein to "discredit" McGowan's rape allegation.
In one memo Bloom sent to Weinstein, she said she could "place an article re: [McGowan] becoming increasingly unglued so that when someone Googles her this is what pops up and she's discredited."
Bloom later confirmed that this story was true and issued a general apology for her actions as a Weinstein employee via Kantor and Twohey's book.
Weinstein's current lawyer says that by filing the suit, McGowan is simply a "publicity seeker looking for money." And sadly, McGowan, who spearheaded the movement against Weinstein in 2017, had prepared for such vicious attacks.
"I'm preparing for the smear campaign to begin again. If you start reading horrible things about me on Instagram, Twitter or FB, understand that they are likely bots being paid for to damage my reputation," she wrote on Instagram on October 23rd, hours after her suit against Weinstein went public.
"If you start reading sites that trash me, know where it's coming from, an indicted rapist and his fixers," she continued. "Stay with me. Believe me. I tell the truth to power, I've done it my whole life. I'm not perfect, but I know I am a good person who fights for the voiceless. If it's happening to me, it can happen to you. Here's to justice, yours and mine."
Weinstein's rape trial was originally scheduled to begin September 9th, but it was recently pushed back to January 2020. He will be tried on five different rape charges, according to Vanity Fair: predatory sexual assault, a criminal sexual act, rape in the first degree, and rape in the third degree. He has pleaded not guilty to all charges.
If you are a sexual assault survivor and need help, you can call the National Sexual Assault Telephone Hotline at 1-800-656-4673 to speak to a trained counselor. You can also chat online with a counselor here. Both services are available 24/7.