Rose McGowan addressed those plastic surgery rumors — even though she shouldn't have to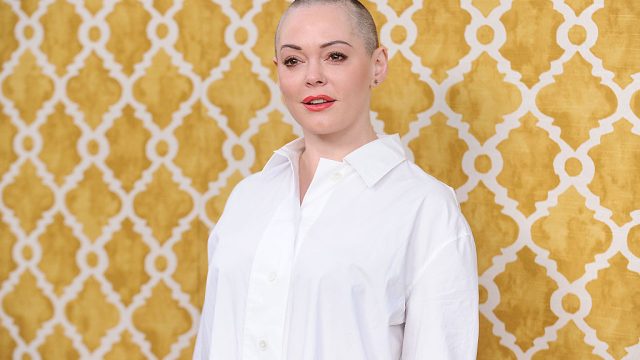 Rose McGowan is one of the loudest warriors of the #MeToo movement; she's consistently vocal about taking down sexual harassers and abusers in Hollywood. On January 30th, Rose McGowan's memoir Brave hit shelves. The book details the emotional abuse, sexual assault, and other unspeakable things she experienced as a woman in the industry. Now that Brave is finally here, we're getting to know McGowan on a deeper level.
In her memoir, McGowan reveals that she lied about why she got plastic surgery. When her appearance changed in the '00s, many wondered if she had work done. McGowan's explanation for the press was that she had reconstructive surgery after a bad car accident. But in Brave, McGowan explained what really happened: A medical procedure went wrong.
The actress had an operation to fix a sinus problem. But during the operation, the surgeon accidentally punctured her skin below her eye. The botched operation led to reconstructive surgery, which is why her right eye appeared "slightly pinched." Then, McGowan had the same surgery on her left eye to balance it out.
Here's what McGowan said about those plastic surgery rumors.
"I told my publicists what happened and they said to say it was a car accident. Looking back, I don't know why it mattered but I took that advice. And so when I was asked by the press, that became the party line."
But McGowan didn't owe anyone an explanation.
What she chooses to do with her body and share with the media is her decision. That said, if sharing the truth about her reconstructive surgery was part of her journey, then more power to her. Thank you for being brave, Rose. Your refusal to remain silent is inspiring.