Rose McGowan now has a warrant for her arrest, and the timing is pretty shady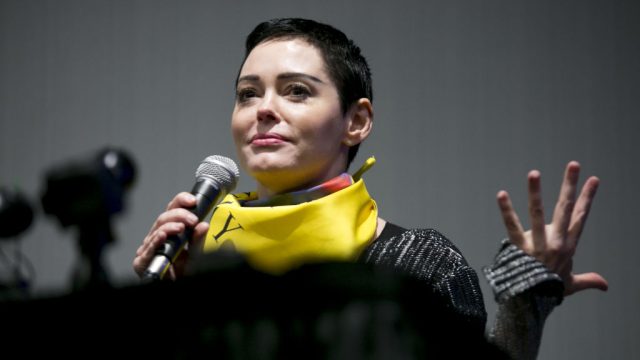 Rose McGowan has been one of the women leading the charge against Hollywood producer Harvey Weinstein on social media and in the press, but she's making headlines for a different reason this week — and the timing doesn't feel like a coincidence. There's a warrant out for Rose McGowan's arrest, and judging from her tweets, she thinks it might be someone's way of "silencing her." 
To be fair, it is really odd timing. According to the Washington Post, the Metropolitan Washington Airports Police Department confirmed that a warrant was issued for McGowan because "personal belongings" that she left behind at the airport "tested positive for narcotics" on a flight that flew into D.C. on January 20th, 2017. The warrant was obtained on February 1st. The police claim that they have tried to contact McGowan so she can appear in court in Virginia. Her name is also in a national database, so if she was pulled over (or something), it would come up. It's not exactly a secret.
The timing of this story making headlines is strange AF, given that the warrant was issued months ago. McGowan tweeted about the warrant on Monday night writing, "Are they trying to silence me? There is a warrant out for my arrest in Virginia. What a load of HORSESHIT."
https://twitter.com/udfredirect/status/925055166176530432
To be clear, it's not like Weinstein's people issued the warrant. That was all the police. But leaking it to the media or stirring it up in the name of drawing negative attention to McGowan is not totally out of the question when it comes to anyone else's potential involvement in the story. It could, in theory, discredit the actress, who has been speaking so publicly about her reportedly traumatic experience with Weinstein.
McGowan alleges that Weinstein's lawyers offered $1 million last month to sign a non-disclosure agreement that would have prevented her from talking about the settlement the producer paid out to her in 1997 after reportedly sexually assaulting her. McGowan didn't take the offer and has since been at the center of the discussion surrounding sexual harassment and assault in Hollywood, and Weinstein in particular.
https://twitter.com/udfredirect/status/924833186751934464
Weinstein notoriously has tried to discredit or come for the women who've accused him of sexual misconduct. In a super creepy move, his team recently sent a picture to ABC News ahead of Ashley Judd's interview with Diane Sawyer on Good Morning America. He sent the news team an image of him and Judd holding hands at a party, presumably as a way to suggest that they were friends, or that they had moved on, or that he wasn't the monster that women are alleging he his.
Judd read the picture a different way, saying that he "just grabbed" her hand for that picture and says that she sees "abject terror" in her eyes in the picture.  (You can watch her examine the picture in the video in the tweet above; it's at the very end.)
That GMA had the picture is no coincidence. If anything, it's something Weinstein's team has talked about doing. Weinstein's former lawyer Lisa Bloom wrote, in an email that leaked after the allegations started to pour in, that the allegations would start to calm down because of her team's work:
"Tomorrow there will be more and different reporting, highlighting inaccuracies, including photos of several of the accusers in very friendly poses with Harvey after his alleged misconduct," she wrote in the email. According to HuffPost, Bloom said that that wasn't necessarily a "strategy" as much as it was musings about what would happen in general and that Weinstein wouldn't publicly come after his accusers as long as she was on his team.
But that wasn't the first time Bloom spoke about discrediting Weinstein's accusers. According to NBC, Bloom allegedly told Ronan Farrow after McGowan's accusations, "I don't know if you've talked to Rose McGowan, but we have files on her and her… history."Bloom resigned in early October.
Given those statements and previous actions, such as proffering a picture of one of his accusers "smiling" next to him, it wouldn't be so out of the ordinary for Weinstein to attempt to make sure McGowan came off as a hysterical woman who also just so happens to have "narcotics" in her luggage when she flies. Why believe anything she says, right? When women talk about systemic sexism and abuse in their industries, this is what they mean. Trying to shame women into shutting up is usually part of the f*cked up game abusers and their allies play.