Rose McGowan is getting her own docuseries, and she hopes it can help us all heal following #MeToo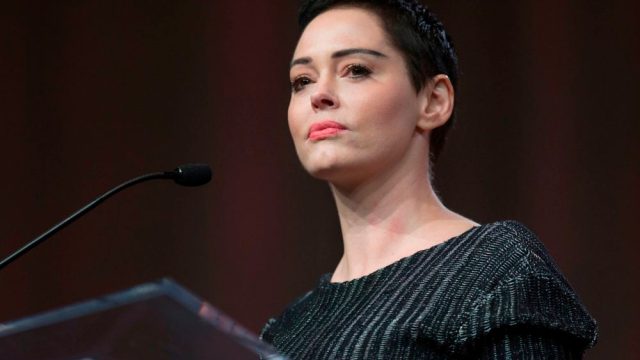 Actress and activist Rose McGowan has never been shy about addressing Hollywood's problematic treatment of women. A proud defender of the #MeToo movement and leader of the #RoseArmy charge on social media, Rose McGowan has been extremely vocal in her takedown of sexual harassers throughout her industry. And now, it's been announced that she's landed a new E! docuseries titled Citizen Rose that will take fans inside her journey.
The announcement of Citizen Rose arrivesjust one day after the New York Times published a story about #TimesUp, the organization founded and run by powerful Hollywood women. According to Deadline, Citizen Rose will chronicle McGowan's activism and lead-up to the release of her upcoming memoir, Brave. The outlet describes it as a "look at the world through the artist/activist's eyes" and writes that it will air as "a two-hour documentary special on Tuesday, January 30, followed by four episodes airing in the spring."
What's more, McGowan said, "I am thrilled to partner with E! to amplify my message of bravery, art, joy, and survival. As I ready my book, Brave, I realized I wanted to show how we can heal through art even when being hounded by evil. I want to have a conversation with everyone, and most especially, you about looking at things differently and seeing beauty everywhere."
McGowan's work is important, and her refusal to be silenced is inspiring. A reality series about, in part, art and its ability to heal trauma is unique, and it will be fascinating to see that on screen — because there's nothing quite like this on television.
The docuseries will also show McGowan's personal journey through overcoming trauma.
Combating sexual harassment, misconduct, and abuse in Hollywood is a necessity. McGowan is an important figurehead in the #MeToo movement, and one hopes that the Citizen Rose docuseries will show her immersing herself in myriad perspectives. And it will be interesting to watch how Citizen Rose unfolds — especially in tandem with the work #TimesUp does.
Rose McGowan hopes that showcasing her effort to overcome personal trauma through art, and to find her voice in the #MeToo movement, will resonate with viewers. See for yourself when part one premieres at the end of January.