Disney is now selling rose gold Minnie ear *cupcakes* to satisfy our sweet tooth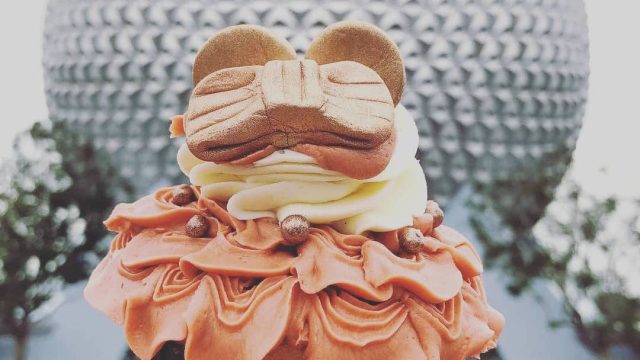 First, it was the pandemonium surrounding rose gold Minnie ears. Then, rose gold spirit jerseys. Following that, rose gold Magic Bands at Walt Disney World. You can clearly have everything rose gold — but can you eat it, too?
Well, now you can. Disney has just unveiled their latest rose gold concoction, and while it is once again something you buy, it's also for anyone with a super sweet tooth. A rose gold sweet tooth? Maybe. You can now pick up a rose gold Minnie ears cupcake at Epcot, and what will Disney rose gold next? It's literally only a matter of time before the fashionable mouse herself, Minnie, starts sporting a new all-rose gold look.
As we've all learned over the last year, rose gold is THE color right now, and Disney jumped on the hue's bandwagon and ran with it. The rose gold Minnie ears sold out like that [snaps fingers], and almost five months later, you can finally start finding them in the parks again — if you're lucky. If you're someone who still hasn't gotten your hands on ears, the next best thing is this cupcake, which you can pick up at Sunshine Seasons over in Future World in Epcot (aka it's the building with Soarin').
https://www.instagram.com/p/Bd_iFb9gs5U
According to those on social media, the cupcake is marble on the inside, with enough frosting to last you for days — come on, just look at the cupcake. That's a whole lot of rose gold frosting.
https://www.instagram.com/p/Bd5yLOCFd2t
https://www.instagram.com/p/Bd34tUvBL6Z
https://www.instagram.com/p/Bd6GGOLnzV4
And yes, it sure looks like the rose gold cupcake perfectly match the rose gold Minnie ears.
You can pick up a cupcake (or a dozen) for yourself over at Sunshine Seasons for only $5.85. Hopefully these won't sell out immediately.