Disneyland is now selling rose gold churros, because dreams come true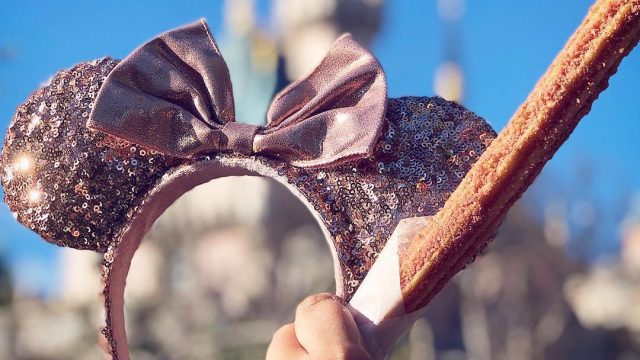 Put down the Dole Whip and hold onto those Minnie ears, because you're going to want to brace yourself for this amazing news. Disney Parks are the most magical places on earth, and to prove it, Disneyland is merging two of our biggest obsessions into something out of our dreams: food and all things rose gold.
Just before Valentine's Day, the wonderful bakers over at Disney World in Florida released spectacular-looking rose good cupcakes, and now Disneyland is following suit with its own incredible rose gold creation — and our new snack obsession.
For just two months, fans who visit the Castle Churro cart right next to Sleeping Beauty's Castle at the Anaheim park can treat themselves to a rose gold churro.
The delicious snack is just the latest Disney product to get the rose gold treatment. Last year, Disney Parks had fans going wild over their stunning new rose gold Minnie ears, which immediately sold out. Then, the company released a rose gold spirit jersey for the spirited Disneyland fan. And now fans can literally have their rose gold and eat it too with this new snack.
The strawberry-flavored treat will cost you $5.25, but that Instagram photo will be priceless.
https://www.instagram.com/p/BfPpavsDwkI
https://www.instagram.com/p/BfMHPwABrXi
This isn't the first time Disneyland has gone a little wild when it comes to its churros. Last fall, Disneyland celebrated fall (and Halloween) by releasing limited-edition pumpkin spice churros, following them up with peppermint candy cane churros to ring in the holiday season. And of course, we can't forget about the lightsaber churros released in honor of May the Fourth.
Disneyland has always been a little bit extra about its churros, and we have to say, the rose gold churro is the perfect new addition. The treats were unveiled just in time for Valentine's Day and are expected to be available for the next two months.
You'd better get in line fast because we have a feeling these churros are going to be gone before we can say, "Disney's love of rose gold will never end."