Rose Byrne Explains How Ivanka Trump and Megyn Kelly Inspired Her Latest Role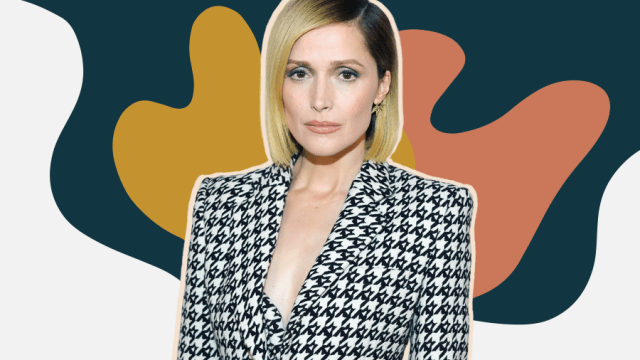 Rose Byrne is no stranger to portraying headstrong, politically-driven characters. In the Hulu series Mrs. America, which dove into the Equal Rights Movement of the '70s, the actress played second-wave feminist icon Gloria Steinem—and she nailed the part, signature aviator glasses and all. For her latest role in Jon Stewart's political comedy Irresistible, Byrne took on a woman on the complete opposite end of the political spectrum: Faith Brewster, a (fictional) consultant for the Republican party. And although the character was made up for the movie, Byrne turned to some real blonde-haired, right-wing women for inspiration—namely, Kellyanne Conway, Megyn Kelly, and Ivanka Trump.
"I just really wanted to capture that spirit of someone who was a political animal," the star explains, speaking over a Zoom call in June. Like the real women who inspired the role, Byrne adds, Faith "lives for the fight, likes the blood on her hands."
In the film (set shortly after Hillary Clinton's 2016 defeat), Byrne stars alongside Steve Carrell and plays his character's long-time political nemesis. Faith is dedicated to keeping the Republican party alive and well through whatever means possible, and she goes up against Carrell's Gary as he tries to sway Democratic voters for a mayoral election in a small, conservative Wisconsin town. The two battle it out in an ego-driven race, complete with some odd sexual tension going on—at one point, Faith tells Gary he looks fat, licks his face, and walks away. Their relationship is based, in part, on a true story; for research, Stewart recommended that Byrne watch the documentary The War Room, about James Carville, one of the lead consultants for Bill Clinton's 1992 presidential campaign, and Carville's opposition, Mary Matalin, who worked for George W. Bush. The two consultants—who are now one of politics' most at-odds married couples—largely inspired the dynamic between Gary and Faith; Matalin is still known today as being aggressively right-wing, even referring to modern feminism as "anarchy" in 2018.
Byrne's own politics and persona differ greatly from Matalin's, of course, as well as Faith's, who frequently uses the word "pussy" to demean her rival throughout the movie. "You know, what we have in common is really the bleach-blonde hair," the star jokes (though she's back to her classic brunette color these days). As an advocate for gender equality in Hollywood, Byrne clearly aligns far more with Steinem than with Faith, but the Australian-born actress says that Mrs. America and Irresistible were "great companion pieces" since both roles forced her to become more educated on significant and complex moments in U.S. history.
"I must say, I thought I knew a lot about the American electoral system and I thought I knew a lot about second-wave feminism, but I quickly realized that I didn't and I needed to," Byrne explains.
Irresistible's overall message is relatively non-partisan, with the movie set on portraying a general political system that's far too influenced by money, power, and greed across parties. "No one is spared in this movie," Byrne notes. "Democrat, Republican, urban elitists, rural conservatives—it's all fair game." Much of the film's comedy comes from watching Faith and Gary's political teams (the urban elitists) poorly adapt to the small, limited-amenities Wisconsin setting, and the scenes offer biting commentary on the large gap between power-wielding politicians and communities in need.
"I think comedy is a great access point for any subject that may seem intimidating or dull or tiresome," Byrne says. "I know people are fatigued by the news of late. So comedy is important in that sense that it can really bring ideas to life that you perhaps might not consider and from many sides of the aisle as well. And it's important to laugh, you know—it's healthy, it's good for our cells."
But Byrne wants to make clear that she knows she isn't making an impact just by playing political roles or being a celebrity with an opinion. She understands that political action holds far more weight, especially during a turning point in America like now, when so many people are on the frontlines advocating for racial justice.
"I feel the protests in the streets are gonna say much more than I, Rose Byrne, could ever say about the political situation," she says.
"And I stand with the protests and I stand with the people on the ground who are actually doing the work, who are risking their lives to go out there and walk in the streets and take part in a greater conversation that needs to be had," she continues.
Byrne says she hopes this moment in history is "the tipping point" for sustained change, and as for what she hopes viewers will take away from Irresistible, there's really just one, clear message: "To vote." You can watch the film on demand now; and, to follow its star's instructions, head to vote.org to stay informed about election information in your state.